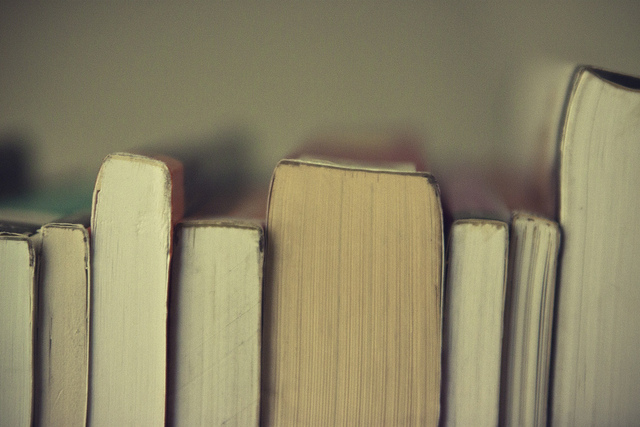 by Amanda Markel
Reading is a great use of time…except when it isn't.
I have enjoyed reading for as long as I can remember, and I've tried to pass that on to my children. There are many books from my childhood which hold a special place in my heart; treasure that I've looked forward to sharing with my children. There are also books from my pre-teen years, that looking back, make me cringe to think that I read them.
Lest you think I was reading something worldly and inappropriate when I was still in junior high school, let me reassure you—I wasn't. I was reading something much more insidious—Christian fiction.
Christian fiction looks great on the surface. The material is clean—no foul language or smut to worry about. As a matter of fact, it can be very easy to grow complacent and assume that just because something is sold in a Christian bookstore, or has the imprint of a Christian publisher, that it's great material for us, or for our children, to read and enjoy.
There is more than one problem with that logic, however, and it's not just the fact that Christian fiction has become so mass-produced that much of it is badly written. To start with, while the content of Christian novels may be "clean," they still run into the same problems that their more worldly counterparts have—namely, portraying relationships, particularly romantic relationships between men and women, in a most unrealistic fashion. Even without the sexual content found in secular novels, the romance in many Christian books, whether geared toward young women or adults, can eventually lead to unrealistic expectations, and dissatisfaction with the real world.
Isn't that the point of fiction, you may ask? To escape from the real world, to a place where things are beautiful and perfect? Yes…to a point. But much in the same way that pornography has been proven to effect men in a negative way when they carry it into real-world relationships, women, too, carry the baggage of what they're reading into their reality. If women of any age are reading material, Christian or otherwise, that makes them believe romantic relationships  and marriage are something they're not, it's not worth the time it takes to crack open the book.
The other problem with Christian fiction might sneak up on you without you even realizing it—bad theology. I still remember reading a popular tween series when I was in junior high. A big focus of the books was the need for main characters to "ask Jesus into their hearts." Despite the fact that I was in Confirmation class at the time, and that I had gone to a Lutheran day school from kindergarten on, I had no idea that there was a problem with this kind of language. As a matter of fact, as an young, impressionable pre-teen, I really wondered why the important people in my life, the ones who had encouraged me in my faith, had never told me that I was supposed to do that. So, I copied the prayer found in the book, and then announced to my mother that I had made that decision. And I couldn't understand why she wasn't more excited about it! These wonderful books that she had purchased for me at our local Christian bookstore were causing more harm than good in my life, and I couldn't even fully grasp why until several years later! This is not unique to that one series, either…most Christian fiction I've read has referenced decision theology, believer's Baptism, and even the dreaded "god" that was Martin Luther. This is not something confessional Lutherans should be wasting their time on!
Scripture tells us that while all things are permissible, not all things are beneficial. This applies even to things that look good on the outside, like Christian books. We are free to read whatever we want, but what benefit is such material to us as Christians, especially when it causes us to have unrealistic expectations, and corrupts our theology? In general, unless you're reading these books with the intent to pick them apart and find their errors, I think there is really no true benefit.
There are some Christian authors that I do still read, but always with a discerning eye. In general, however, I'd rather read secular works, especially the classics, because I'm not expecting to learn any kind of theology from them, and I don't need to go over every word with a fine tooth comb to make sure that Scripture isn't being twisted. It is my hope that eventually, there will be more sound, theologically accurate Christian fiction available for Lutherans like me, but until then, I will filter everything I read through a very wary eye.
Photo credit: "d-221 books" by az licensed under CC BY-NC-SA 2.0