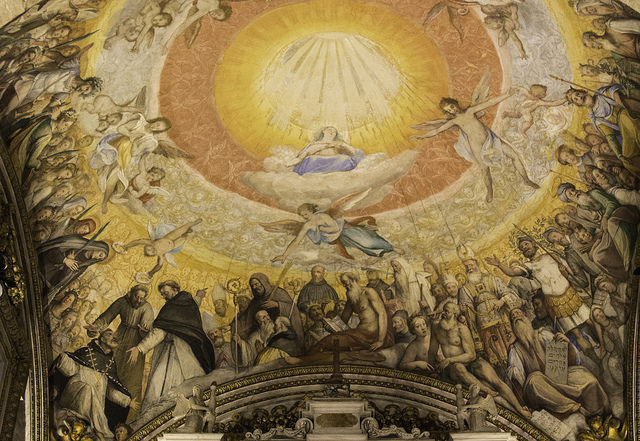 by Shelly Hurt Mielke
Therefore, since we are surrounded by so great a cloud of witnesses, let us also lay aside every weight, and sin which clings so closely, and let us run with endurance the race that is set before us. . .

Hebrews 12:1
"Riddley, Riddley, Ree!  I see something you don't see, and the color of it is. . ."  My five-year-old daughter loves to play this old family game, passed along for a few generations.  I recall playing it with my beloved grandma, as she sat under the hair dryer in my childhood kitchen.  

After being told where the game originated, my little daughter has begun asking me about my grandma, who passed away when I was pregnant with her older sister in 2000.
"Tell me about your grandma", she says often.
And I begin with great memories. . .she loved Coke, ham sandwiches, and shopping.  She was widowed young and reinvented her life by becoming a real estate agent.  She adored her family, took pictures of everyone all the time, and said "Hello, love", when we talked on the phone.
But above all else, she loved her Savior.  She had a faith that emanated from her very being.  Everyone who knew her knew that she put Christ first in her life.  Her constant prayer was for unbelieving family and friends to come to know her Lord.  She was an amazing witness and example of faith in action.
And as I cuddle in bed with my sweet babe, recounting all these things, perhaps not surprisingly, we came upon the beauty of the communion of saints.  Explaining the communion of saints to a five-year-old, child genius as she is (I'm her mother, I get to think that!) is no small undertaking.  I proceeded carefully, traveling along something like this:
"Do you know how Mommy and Daddy and your brother and sister take communion every Sunday?  We take communion together, and we also take communion with all the people at church that Sunday, right?"
She agreed, so I continued.  "Well, you know that your grandparents and aunts and uncles take communion every Sunday, too, right?  Even though they are far away, we are communing with them, because we all believe that Jesus is present in the bread and wine.  So, we are not actually standing next to them, but we are still communing with them."
She nodded again, so I took the final leap.   "It is the same thing with all the people who went to heaven in Jesus.  Though we are not standing together, we are united in Jesus' gift of His body and blood.  Each time we take communion, we are together with all believers!"
I'm not sure just what she retained, but the seeds were planted.  What a glorious gift, this sacrament!  Together with all believers, it binds us to Him and strengthens us for our journey here on earth.  Praise God for His holy sustenance!
Yet she on earth has union
With God, the Three in One,
And mystic sweet communion
With those whose rest is won.
O blessed heav'nly chorus!
Lord, save us by your grace
That we, like saints before us,
May see You face to face. 

The Church's One Foundation
LSB 644
---
Shelley Mielke is wife to LCMS pastor Spencer Mielke, and mother to five fabulous (and busy!) children. She teaches preschool three days a week at the Lutheran grade school her children attend, which brings her great joy. When she's not playing taxi driver, laundress or cook, she enjoys singing, shopping, and reading. She also finds joy in writing her blog, mammamilk.
Photo credit: "Gloria Sanctorum" by Lawrence OP licensed under CC BY-NC-ND 2.0