On Being Friends With Pastors' Wives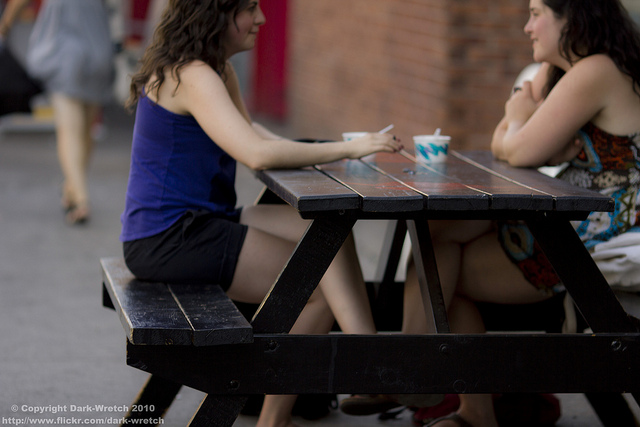 by Vanessa Rasanen
My two best friends at church happen to be the wives of our pastors. I'm not sure how it happened exactly — perhaps it's that we're all around the same age. Or maybe that our kids are around the same age. Or maybe it's that as a military spouse, I can relate a bit to the frequent solo parenting we each endure due to our husbands' schedules. Beyond that, they're just really awesome women who I get along with, so friendship just developed naturally.
And that's not a bad thing. Because our pastors' wives need friends, too.
Sure, they have a built in support system with the other pastors' families in the district, but it can also be a bit of a lonely life. They're often far away from their family or their hometowns. They may find that women in the congregation aren't all that eager to befriend them, or may be a bit standoffish or too formal with them.
We should remember our pastors' wives are just like us. First off, they're human – ahem, they're sinners just like the rest of us. Secondly, they're members of the congregation. They are not co-pastors. They are not called, as their husbands are. They sit in the pew. They receive God's Word, Absolution and Sacraments alongside us. They serve us as their neighbors, just as we are to serve them, as well.
Beyond that, though, they are members of our pastors' family, and that means we, as congregants, care for them. Per the table of duties in Luther's Small Catechism, we owe our pastors a great deal:
Even so hath the Lord ordained that they which preach the Gospel should live of the Gospel. 1 Cor. 9:14. Let him that is taught in the Word communicate unto him that teacheth in all good things. Gal. 6:6. Let the elders that rule well be counted worthy of double honor, especially they who labor in the Word and doctrine. For the Scripture saith, Thou shalt not muzzle the ox that treadeth out the corn; and the laborer is worthy of his reward. 1 Tim. 5:17-18. Obey them that have the rule over you, and submit yourselves; for they watch for your souls as they that must give account, that they may do it with joy and not with grief; for that is unprofitable for you. Heb. 13:17.]

SC Table of Duties
And so we do care for our pastors' wives. We help them when they fall ill. We watch their kids when they need a break. We take them for coffee when they've had a rough week. We pray for them. We listen to them. We laugh and chat with them.
Yet, friendships with our pastors' wives must be different. On one hand, we should never feel such discomfort as if they will judge us more harshly or think less of us upon discovering we are less than perfect. Psssst, they already know we have flaws. They won't be surprised. They don't want us to tiptoe around them, shielding them from the real us, afraid to let our pristine, Pinterest-perfect facade down. They want us to feel like we can be real and genuine around them.
But there is a flipside to this. Due to their husband's vocation, friendships with members of the congregation can't be boundary-less. Some topics are off limits — such as any grievances with our pastors. Duh. We also can't expect them to be completely open and honest about everything in their life. While other friends may come to us to vent or seek advice about marital issues, our pastor's wife may not be as likely to do so. It's not that she doesn't trust us, or that she doesn't like us enough to do so. It's that she's respecting our relationship with our pastor, and doesn't want to affect that through our friendship.
Some may try to equate being friends with our pastors' wives to befriending the boss's wife or the commander's wife in the military. There are similarities here indeed, but there is one major difference to keep in mind. We take caution regarding friendships with the wives of those who hold authority to avoid any perception of inequality or favoritism. Yet there is no benefit to be gained by befriending our pastor or his wife. We don't earn brownie points by doing so. We don't get a cushier seat in Heaven. I'm not sure what bad perception could be earned by befriending our pastor's family. If nothing else, you gain some good friends to have over for dinner or swap babysitting with.
So while our friendships with our pastors' wives can't quite be as intimate or as close as they are with other friends, we shouldn't let this deter us from befriending them at all. They need friendship, community and companionship as much as anyone else.
Photo credit: "Summer Chat" by -Kenzie- licensed under CC BY 2.0.