The Lutheran Working Mother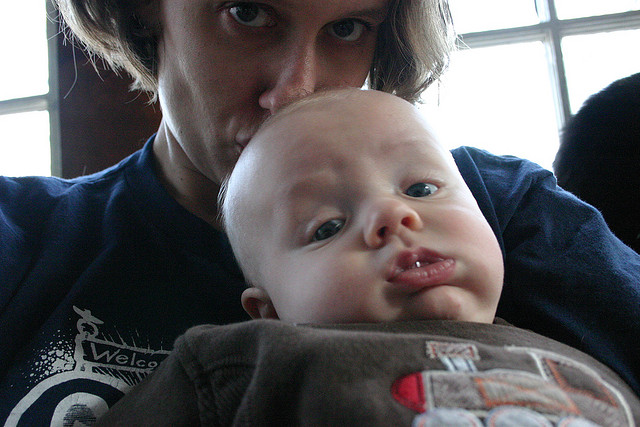 by Pam Thompson
I always imagined that I would be a stay at home mom. My mom worked outside the home, in a community filled with housewives. There were times I thought I was missing out, not having my mom be a room mother, or hosting fun swim parties in the summer.
I attended college, earned a degree, and hoped for a good job to hold me over until I had children "someday". Someday came quickly. Our first son was born a few weeks after our first anniversary. He was followed by three brothers and set of twin sisters.
I enjoyed my time as a stay at home mom. But, the truth is, six children are expensive, especially on a pastor salary, especially with college on the horizon.
During our son's junior year of High school, we began to re-evaluate my career plans. I had often tossed about the idea of going "back to work" when the youngest was in kindergarten. At the time, our girls were three. Two more years may be too late to fund college–and our oldest was definitely college bound.
I began looking at job postings casually, and then more fervently. A few months later, I found the "perfect" job as a development director for a statewide non-profit. I had all of the qualifications, and I had plenty of volunteer fundraising experience under my belt from my stay at home mom days.
I did get the job.
We scrambled, and even punted a few times in making childcare decisions.
It was not always a smooth transition.
But it was right, it was right for our family, it was right for our community, it was right for the constituents I serve, it was right for my co-workers.
I found the biggest amount of backlash came from fellow Christian women. There are those within the Christian community who think that the only proper vocation for a married woman is that of wife and mother.  Anything else is a.) abandoning the primary vocation of wife and mother and/or b.) placing someone or something in the place of the husband/father.
This was hurtful. As much as I enjoyed being a stay at home mother, I always had a nagging feeling that I needed to be doing more. I felt like I could help our family's financial situation. I am not a gifted homekeeper. I did not find satisfaction in neatly folded piles of laundry. . . . Though I tried. I found, that even though I was home with my kids, I was still not the great PTA mom that I wished my mom would have been.
I just felt like there had to be more for me. I threw myself into my Sunday School teacher duties. I planned church and women's events. These outside endeavors helped, but still did not fill my urge to work.
And I realized that we women, even Christian women, can be so cruel. I had been fed the line, and began to believe it, that women only worked outside the home because they were selfish and were striving for more "things". I was led to believe that were I to work outside the home, my income would be a "wash" after all of my working expenses added up. I was led to believe that I would have no time for my kids if I was working outside of the home.
My friends, this is simply not true.
My foray into the working world did NOT collapse my family. In fact, if has allowed my oldest to attend University without taking on student loan debt. It has sent a few boys to Boy Scout camp. It has helped pay for gymnastics for a few busy preschool girls, and it is funding tuition for a son to sing in the community children's choir. Without me working,  I do not think we would have been able to do these things. Yes, these are not needs, they are wants, but they also have helped round out our children's lives.
My foray into the working world has allowed us to re-roof the house, put on a fresh coat of paint and purchase a more fuel efficient vehicle.
Contrary to what the nay-sayers might think. . .I still don't have a smart phone or a designer purse, or professionally manicured nails. For a few more months, a large portion of my take home pay goes toward child care.
I've been able to give more generously to church and others in need. I've learned to manage my time better, and to enjoy my time at home with family. My children have learned to pitch-in more fully to help run the household.
The children are proud of what I do, and volunteer their time at events that I help organize.
As I learn more and more about the doctrine of vocation, I learn that there is no command for a woman to only serve at home, and that it is not denying my vocation as wife and mother to also serve others outside of the home. While some women are perfectly content to be keepers of the home, we need to be careful not to make that a law.
Come to think of it. . . . I just may be getting closer to that "ideal" Proverbs 31 woman every day!
Photo credit: "Snuggling in the Sunshine" by Kirsten Jennings licensed under CC BY-NC-ND 2.0.