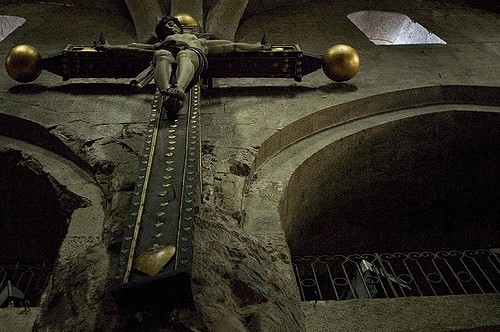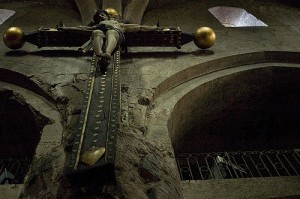 By Amanda Markel
Good Friday 2016 gives us a unique opportunity for a rare glimpse at the church year coming full circle, because this year, Good Friday's movable date falls on the same date as one of the principal feasts of Christ: The Annunciation.
Too often, we separate the Jesus of Christmas from the Jesus of Good Friday. We don't want to think of the baby swaddled in the manger dying, and when we picture Jesus suffering on the cross, the image of a tiny, helpless baby is far from our minds. But that baby, whose coming was announced first to Mary in Nazareth, was born to save us all through His death on the cross.
This year, in one breath we will hear the angel bring the Good News to Mary: "Do not be afraid, Mary, for you have found favor with God. And behold, you will conceive in your womb and bear a son, and you shall call his name Jesus. He will be great and will be called the Son of the Most High. And the Lord God will give to him the throne of his father David, and he will reign over the house of Jacob forever, and of his kingdom there will be no end." and in the next, dying Jesus saying: "Woman, behold, your son!" to His mother.
This year, we can sing the words:
"Then gentle Mary meekly bowed her head,
"To me be as it pleasth God," she said
"My should shall laud and magnify God's holy name."
Most highly favored lady," Gloria! "The Angel Gabriel from Heave Came" stanza three
But on the same day also sing:
Jesus, loving to the end
Her whose heart Your sorrows rend,
And Your dearest human friend:
Hear us, holy Jesus. "Jesus in Your Dying Woes" stanza seven
This year, we see the somber black paraments of Good Friday meet the joyous white of Annunciation Day. We can picture the image of Mary and the infant Christ in a nativity scene right next to the sculpture of the Pietà. Just as we profess God and man, partake in the bread and body, wine and blood of Jesus, we see the fulfillment of a promise made in the Old Testament…the promise that God would send His Son, God in flesh, born of a woman, to crush the enemy as he suffered and died on the cross on that first Good Friday.
Mary was there for it all. From the moment the angel surprised her with the words, "you will conceive in your womb and bear a son," to Jesus' last breath, she saw it all. She treasured up many things, pondered many things in her heart. So on this day, when we remember the nails and spears that pierced Jesus, we also remember the angel's visit to Mary, a woman who had her soul pierced also.