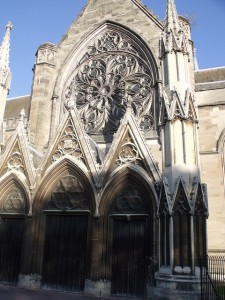 By Holly Scheer
I share something in common with many of you– the church I attend now is not the church I grew up in. Our society is increasingly mobile.
We move for jobs, for college, when we get married. Sometimes we move so far away that going "home" is hard.
And for those of us reared in the church this means that not only are we apart from childhood friends and family we are apart from the church of our youth.
New churches come with new experiences. New meals at potlucks, new holiday traditions. New hymns the congregation prefers.
I grew up with the liturgy. I can close my eyes and say it by heart. It runs through my mind during the day and when I'm going to sleep.
My childhood church was different than the beloved one I attend now– but the liturgy remains the same.
When I am at the rail for communion I remember that not only am I communing with the dear saints next to me kneeling– but all the hosts of Heaven.
We are a true family, the family of believers. A new church brings new traditions, but the things we share unify us. They keep us close together.
There is so much beauty in the shared songs and patterns of the church– what it teaches us as small children and reminds us of when we are old. The deep gifts of our Lord, given freely and generously to us.
There are things and people I miss from my church I grew up in, but I take comfort in the promise of the Resurrection and the knowledge that missing things is a concern of this world.