Helping A Sister Through Sadness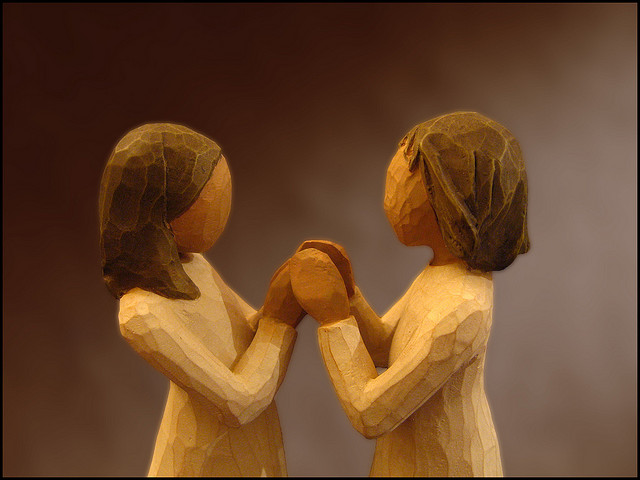 By Holly Scheer
Sometimes a sister we love is suffering, and for all our desire to help, we simply don't know what to do. Whether it's a grief that stretches over time or a temporary sadness, the suffering of our loved ones and friends is difficult to bear.
Here are some simple suggestions for showing care and concern for a suffering sister.
Pray for her.


Sometimes it can feel trite to tell someone we're praying for them but it's not. Prayer is powerful and should be our first step. Pray for her, and pray with her if she wants. Ask if she wants to be added to the prayer list at church.

Listen to her.
Let's be real, sometimes it's hard to listen to a stream of sadness and terrible events. Either we can't relate and it makes us uncomfortable, or we can relate too much and it thrusts us into our own private hurt. Despite our super-connected culture we are generally unaccustomed to focused, deliberate listening. Take a pause, turn off the smart phone (or don't if you're talking to her on the phone, because that'd be rude), and listen. Even if you don't know what to say, it's okay. Just listen.
Remember her.
Grief is a tricky, nasty thing. It lingers and stays far longer than we'd like at times. It waxes and wanes, and just when we think we've kicked it, there it comes again to ruin our day. Even if time has passed — especially if time has passed! — call her or write her a letter or a text telling her you're thinking about her. Let her know you love her and you're wondering if she's okay. Be prepared for her to say she's not or for her to say she is.
Be real with her.
When a friend has experienced a life-altering event, it can be difficult for us to relate about things other than that event. Does every conversation need to focus on it? Is it okay to laugh or talk about other things? Spoiler — it is. Don't stop treating your friend like, well, a friend. She's still your sister. She's still there, under the sadness, and it's not wrong to include her in things unrelated to grief. It may be a welcome respite for her.
Encourage her.
Please, tell her that this thing, whatever it is, doesn't remove her from the family of believers. Ask her how you can help. Offer what you can.
How do you help your sisters (both in our families and in the church) when they're grieving?