Comfort for Those Tending to the Lord's Littlest Sheep, Part 1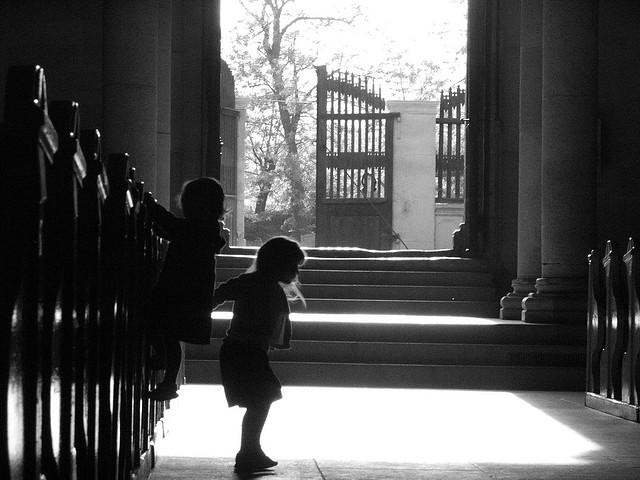 Part I: The Why of Taking our Children to Church
Full of frustration and embarrassment I am driving away. Away from the staring faces, away from the haughty looks, away from the very place I should love to be. I cannot hold back the tears and my lips are quivering. My head is swirling with thoughts. "Why do I even go to church? I never even hear the sermon! Surely they remember what their toddlers were like? It can't just be my child. I cannot believe my son just lapped the sanctuary during the prayers!"
Yes, it's quite true. I have had on any given Sunday a child lap the sanctuary, inquire quite loudly if "we're done yet?", crawl under several rows of pews before being caught, rip a page out of the hymnal, spill their snack all over the floor and proceed to stomp it into a billion pieces, scream bloody murder, and line the pew behind me with a train track of feminine products they found in my purse while an elderly man watched in horror and I, fully unaware and singing, had no idea such a display lay behind me. Shall I go on? You get the picture.
And yes, I've driven home many a day in tears.
This is the life of a parent trying to attend church with a young child. It is no small feat. It comes with many embarrassing moments, days of frustration and exhaustion, words of judgment, and ugly looks of ridicule. You may wonder why one should keep trying, why you should keep trying?
It really wasn't until I became Lutheran that I began to understand. In the churches I grew up in (Southern Baptist and Calvary Chapel) there was always childcare during the service. Some would simply not allow children under age nine to enter the sanctuary. I was even physically ushered to the back of the sanctuary, not allowed to sit with my family, because I was there with my two-month-old daughter. These churches hold to an un-Biblical teaching that claims there is an age of accountability. If a child is younger than about third grade, they get a free pass to heaven. In these churches, children become a distraction for the work of the Holy Spirit. Someone might not get saved if your child is making noise. It is as if the Holy Spirit is scared away by the smell of Cheerios or the sight of a crayon! Sarcasm aside, when I began to understand what worship is and the "why" of going to church, taking my kids, with all its difficulty, became very clear.
Worship is to receive the gifts of God. It took a while to sink into my own head. Worship is receiving the Lord's gifts. Gifts like the forgiveness of sins. Gifts like the hearing of His Word. Gifts like salvation. See Ephesians 1:7, Romans 10:17, Romans 1:16. There is no age limit for receiving the gifts of our gracious and forgiving Lord. When this becomes clear, taking your children to church becomes part of what a good and loving parent does. Our precious little ones need to receive these gifts, too, and they should not be denied.
In the Words of our Lord,
"Then children were brought to Him that He might lay His hands on them and pray. The disciples rebuked the people, but Jesus said, Let the little children come to Me and do not hinder them, for to such belongs the kingdom of heaven."

Matthew 19:13-14
It is worthwhile to do a bit of studying on the Greek word for "children" used in this text, as it means infants, not big kids. This scriptural look at the faith of children may help.
When I realized it was part of my vocation as mother to take my children to church, I decided to fight this great battle. Fighting not against my children, but against the devil who takes great delight in keeping me and my children from going to Church. This raging beast is waiting to devour our faith. Our Lord has provided the Church with His Gospel. The Gospel that gives us faith, and sustains us in it.
From the time a child is six months old to around four years old your Sunday mornings will be a challenge. Still, you will begin to reap the rewards! Pretty soon, you'll think "Hey, I made it through the sermon before I had to sneak out." Or you'll notice your two-year-old whispering the last word of every phrase of the Lord's Prayer. Or you'll see a drawing that strangely resembles the sermon. Or in the car ride home your child will ask one of those dumbfounding questions that you need your pastor to answer.
These, dear friends, will bring your heart great joy!
Respectfully and In Christian Joy,
Keri Wolfmueller
Please come back for:
Part II: Understanding Age Appropriate Behavior
Part III: Tricks of the Trade and Quiet Activities for Small Children
Part IV: Sometimes We Need Law, Sometimes We Need Gospel
Photo credit: "Among the Pews" by James Doepp licensed under CC BY 2.0