An Open Letter to My Four Kids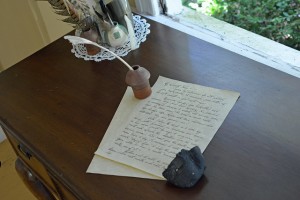 By Vanessa Rasanen
To my four children:
I am no perfect mama. I am very much a poor and miserable sinner of a mom. But you don't really need me to remind you of that. Even at your oh-so young ages you've had the blinders removed and seen me in some of my darkest moments. Okay, maybe not the 1-week-old as much, but I'm fairly certain he has spent the last several months hearing my raised voice when I get angry and feeling my body shake from the sobs when that guilt hits afterward.
Parenting is hard. I know it probably looks like such an easy thing from your perspective. Dad and mom get to make the rules, call the shots, set the bedtimes, eat ice cream whenever we want, and make all the decisions. I wish it were that simple sometimes.
Being your mommy isn't just about making sure you sleep and eat well, that you brush your teeth or learn to read. It's not simply a matter of teaching you manners or disciplining you when you break rules. These are all important, of course, but they are oh so minor in the grand scheme of it all.
Right now I'm holding the youngest of you in my arms, thinking I should probably move you to the bassinet, but not wanting to let you go just yet. (Yes, I'm sharing this time with you and a screen — one of those many ways in which I show my imperfections, I suppose.) I've held each of you at this tiny and vulnerable stage, marveling at just how incredibly amazing it is that God took a bit of me and a bit of daddy and created a whole new person — you. Each of you.
Like all parents (I hope) I wish and long for the ability to shelter you and protect you from all the evil and pain in this fallen world. I wish I could wrap you up and shield you from the damaging effects of sin, that your body, heart, mind, soul would never have to wrestle with all the trials and tears life may bring.
Yet I know that's impossible. Nothing I do can save you from sin. Not directly. I can't whisk you away to a remote/deserted island or a hole us up in a secluded mountain cabin. After all, we are all sinners, conceived and born in sin. And we cannot run away from our sinful Old Adam any more than we can run away from God himself. Look how well that worked for old Jonah, eh?
But we take heart, kids, because hope is not lost. Dad and I are not helpless in our desire to protect you. We may not be able to prevent all tears and pain and heartache for you, but there is something so much greater we can give you. For God hasn't left us empty handed. He has given us His Word — the Gospel of our Lord Jesus, crucified, risen, and ascended for each of us. He has given us this Word so that we — me, daddy, you kids, and everyone — would believe in Christ, be forgiven our sin, and have eternal life.
I cannot protect you from all bad guys, from friends who will hurt you, or from sad times, but I can work with daddy to ensure you hear God's Word, learn it, and know it. We can take you to church to receive absolution, to stand with your church family — fellow brothers and sisters in Christ — to hear that Word, and then to kneel with us at the rail as we receive Jesus' body and blood for the forgiveness of our sins — knowing you'll one day receive it yourselves once you complete your catechesis. We can work on that catechesis with you daily, even when we are tired and stressed, remembering that third commandment to cherish God's Word and gladly learn it.
These things aren't always easy for us. We get stressed and lazy (sinners, remember?). But we try.
And so I want to say thank you, kids. Thank you for sitting in the pews when you didn't really want to (or for letting me catch you when you've decided to make a mad dash for the altar mid-sermon), for working through your catechism memory work night after night, and for helping daddy and I to learn the catechism along with you. Thank you for all your tough questions, and for understanding when we have to defer to the pastors for an answer. And thank you for always being so quick to forgive us when we mess up.
We have such a hard road ahead of us in this sinful life, but thanks be to God we aren't walking it alone (that we we have each other as well as our pastors and church family), and that we know we have such joy in Christ Jesus waiting for us at the end of it all.
Love, Mom.