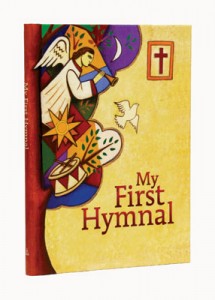 Let me prepare this review of CPH's My First Hymnal by stating that I am probably the worst possible person to write such a review.  I know absolutely nothing about music, can't carry a tune in a wicker basket, am usually unable to recognize melodies, and am probably – on at least some non-literal level – tone deaf.  So, with that out of the way, here's what I think of My First Hymnal, which I purchased for my infant daughter because obviously a hymnal is an appropriate gift for someone's 2-month birthday.
 First, I like how this is laid out sort of like a baby version of LSB or other Lutheran hymnals with the church year described in the front, then Psalms, then liturgies, and then the hymns.  Although I wish a few more had been included, the Psalm choices (8, 23, 46, 51, 121, and 150) are all favorites.  The short morning and evening prayer services are definitely do-able and I've used them with my daughter.  
And now for the hymns.  Picking the hymns for a book like this must be a truly thankless task.  There are obviously only a finite number of hymns you can select and as a result someone will inevitably be offended when her favorite hymn was not included.  Moreover, in order to please as many potential buyers as possible, the editor is bound to include hymns at least a few hymns that – while not heretical – will nonetheless annoy a good portion of readers.  
In any case, the editor of this hymnal selected 4 Advent hymns, 6 Christmas hymns, 2 Epiphany hymns, 3 Lent hymns, 5 Holy Week hymns, 2 Easter hymns, 1 Pentecost hymn, 2 Holy Trinity hymns, 8 Jesus hymns, 10 Church hymns, 6 Baptismal Life hymns, and 2 Heaven hymns.  Personally, I would have liked to have seen more Easter and Pentecost hymns and at least one Ascension hymn.  But, then again, I understand that in popular culture Christmas, not Easter, is the queen of feasts, and so the selection does make some sense.  
If, like me, you've grown up in a Lutheran congregation, then you should be very familiar with at least 75% of the hymns.  This enables my daughter and I to play hymnal jukebox, which entails her randomly flipping to a page, me "singing" (note the quotation marks there) whatever hymn she happens to land on until she randomly flips the page again.  The result is sort of like a bad LSB dance remix.  When I initially opened the hymnal, I was disappointed that most hymns are abridged to only 2 or 3 verses.  But, as the realities of trying to interest a baby and now toddler in a single song for more than a minute or two sunk in, I began to appreciate the wisdom of the chosen arrangement.  
In the "Bethany's favorite hymns" category, the editor included Savior of the Nations, Come; Angels We Have Heard on High; Jesus Christ is Risen Today; The King of Love My Shepherd Is; Have No Fear, Little Flock; Lord, Keep Us Steadfast in Your Word; God's Own Child, I Gladly Say It; and I Am Jesus' Little Lamb.  In the category of "the-inclusion-of-these-hymns-as-opposed-to-others kind of annoys Bethany" we have Silent Night, Holy Night (yes, I know, I'm in the extreme, extreme minority here); I Want to Walk as a Child of the Light; Someone Special; Beautiful Savior (again, I know, I'm the minority); and Lift High the Cross.  
Additionally, if I were in charge of commissioning a second edition of this hymnal, I would include a section of communion hymns.  The only one included is What Is This Bread as a Holy Week hymn.  I assume that this is because the book's target demographic does not yet commune.  Nevertheless, it seems to me that you can't start too early when it comes to nurturing a healthy Eucharistic piety.  
Now for the most important part of the book review: my daughter's opinion.  This is by far and away her favorite CPH book.  And, believe me, we have lots.  She knows where we keep the hymnal and she frequently pulls it out to "read" by herself.  She also loves to have mom or grandma read it or sing to her.  I'm not sure what exactly it is about the illustrations on each page, but something about them seems to really captivate her.  I should also note that whatever material CPH used for the pages is much sturdier than your average page paper and so it has stood up quite well to my daughter's hands and teeth.  Now that I've written a lot about something I know nothing about, it behooves us to read a review from someone who actually knows a ton about music…
Thanks, Bethany.
Ok, short version music cred: I've had formal training in music, various instrumental and voice, from age 6 through currently, with a wide variety of public performances along the way. I have 15 years experience as a church organist, and have been intermittently teaching music classes, instrumental lessons, directing choirs, accompanying choirs, and teaching classroom music in elementary schools over the last 20 years or so. My two able assistant book reviewers, ages 8 and 10, both participate in school choirs, are forced to take piano lessons taught by their mother, and the older one also takes violin lessons and plays in a local youth symphony.
My First Hymnal is a great devotional resource for families with young children. Morning and evening family devotions are right in the front and relatively young kids can memorize the prayers, responses, and suggested hymn stanzas quickly with repeated use. It's a beautifully illustrated book, and the format lends itself well to transitioning to LSB because the layout is similar.  
I agree that there could have been more Easter hymns, an Ascension hymn or two, and a Lord's Supper section would have been nice. Dr. Kilcrease is on her own panning Silent Night and Beautiful Savior, however, I do agree with her on I Want to Walk as a Child of the Light, Someone Special, and Lift High the Cross. The others on the "Tabitha can't get through these without rolling her eyes" list are Amazing Grace, The Lamb, and What a Friend We Have in Jesus. Every hymnal has some clunkers, and tastes vary. There are so many good hymns included that it's easy to avoid any you don't like in My First Hymnal.
It's nice that the melody lines and keys are the same as LSB, so if a parent or older child would like to accompany the singing using LSB on piano or organ (for those of us cool enough to have an electronic or pipe organ at home), younger singers and those still learning to read music can follow the single melody line in My First Hymnal, not necessarily reading notes but at least tracking pitch direction.
The kids' review of this one was quite brief. They both said, "It's good."
I agree. Buy it. Use it with your family. Have devotions. Pray. Sing hymns. It's good.
Photo credit to the good folks at CPH.