Review of Soldier On and Giveaway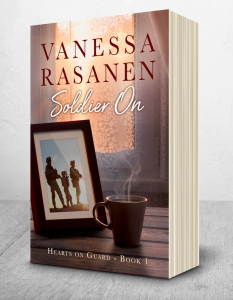 By Bethany Kilcrease
Ladies, if you've ever wondered what it would be like to read Christian fiction featuring both an implied steamy sex scene and Luther's Small Catechism all within the first chapter, then wonder no more!  Sisters of Katie Luther blogger Vanessa Rasanen makes her authorial debut with Soldier On, which might be said to fall within the contemporary Christian military genre if such a category exists.  Prior to late August 2018, I had never read anything approaching a contemporary Christian novel. Moreover, while I do have some experience in the Christianity department, my experience with military deployment is nonexistent.  Wouldn't reading this book be like a life-long vegan eating and then trying to digest a T-bone steak? So it was with great trepidation, to say the least, that I agreed to read and write a review of Soldier On.  I began reading as a skeptic, fairly certain I wouldn't enjoy or even complete my task.  To my surprise, though, I discovered that Soldier On was not only beautifully written but also accessible and engaging.  The writing is crisp and the alternative points of view kept me interested.
Rasanen tells the story of a young married couple named Charlie and Meg Winters. Charlie is so Lutheran he carries his worn Small Catechism with him on deployment, while Meg sports Luther Rose earrings and at one point ponders how Lutheran it would be to drown in a giant cuppa coffee.  Charlie serves in the Army and the book opens with his deployment to Afghanistan. Back home, Meg confronts her own memories and inner demons. It's difficult to say much more without giving away plot elements that readers will want to discover for themselves.  But since Rasanen's website already gives some details, suffice it to say that tragedy in Afghanistan tests Charlie and Meg's relationship in new ways. Meg finds herself forced to confront old secrets that threaten to pull her away from both Charlie and God. Charlie, on the other hand, finds himself grappling with seemingly conflicting duties: how to both serve his nation as a soldier and care for his wife when she is thousands of miles away.
Sisters of Katie Luther readers will especially appreciate how Rasanen's confessional Lutheran convictions shape the novel's major themes.  Perhaps the most obvious way this occurs is through the strong emphasis on vocation and duty noted above. Lutherans teach that God serves us through the created means of our neighbors' vocations.  Some of the most absorbing moments in Soldier On involve characters, like Charlie, struggling with how to negotiate multiple or even seemingly conflicting vocations.  How can a man fulfill his vocation to serve his wife when he is deployed thousands of miles away? How can he fulfill his vocation to serve his fellow citizens as a soldier when he is focused on his wife and traumatized by his past?  Meg, meanwhile, find herself serving her neighbor as wife, parishioner, and friend. She struggles with how to best serve in these different roles. How does one bring the comfort of Christ to a friend when you are suffering pangs of doubt and bouts of anxiety yourself?
Another major Lutheran theme emphasized throughout the book is the theology of the cross.  Martin Luther introduced a distinction between a "theology of glory" and a "theology of the cross" in his 1518 Heidelberg Disputation.  For Luther, the theologian of glory actively seeks to uncover the hidden will of God.  The theologian of the cross, on the other hand, passively trusts in God's promises regardless of what appears to be the case.  The theologian of the cross grasps where the theologian of the cross receives. As Lutherans, we recognize that things aren't always what they seem.  We see a naked, bloodied, dead corpse hanging on a post. But faith receives the Word and believes that, contrary to all appearances, the crucifixion is the beautiful atoning sacrifice for the sins of the world.  
Throughout the book, Meg struggles with anxiety and feelings of abandonment by God and others.  Based on the tragedy she experiences and her inability to feel God's presence, Meg stumbles into a crisis of faith.  It appears to her as though God either isn't listening or doesn't even exist.  And, were one to look only at the circumstances of Meg's life, her conclusions might appear justified.  Meg's struggles are made worse by the fact that she fears God is punishing her for past sins. Luckily, Charlie, her pastor, and her friend remind her to trust God's objective forgiving presence in the Word and Sacraments.  Things aren't what they seem. Christians live by faith and not by sight (Heb 11:1). Meg has faith because she heard the Word, not of external circumstances or subjective emotions.  In the end, the powerful faith-creating Word of Holy Absolution hidden in her pastor's voice plays a major role in restoring Meg to the church and resolving her feelings of despair.   
While Rasanen's work obviously has much to recommend it to SKL readers, I should note that the heavy use of military terminology and acronyms can be confusing at times.  Luckily, Rasanen provides readers with a helpful glossary of acronyms at the end of the book. But, if you're like me, you're unlikely to actually flip ahead to the glossary when needed and this is even more cumbersome on an e-reader.  Obviously, I still managed to follow along with the plot, but I did find myself momentarily lost on occasion. In future books, Rasanen may want to consider a slightly less steep learning curve for those of us without a military background.
It's also important to note that although Soldier On qualifies as "Christian fiction," it deals with very adult themes.  Should we ever see the movie version of Soldier On, it would definitely receive a strong PG-13 rating.  Although the thematic content of Rasanen's work is certainly no more graphic than that of contemporary young-adult fiction—and it's actually a good deal tamer—parents may nevertheless want to exercise some caution before gifting this to a child.  But, if you are an adult and looking for a more "Lutheran" version of contemporary Christian fiction, you should find plenty to both entertain and edify in Rasanen's Soldier On.  I know I, for one, am looking forward to sequels as part of Rasanen's projected Hearts on Guard series.
We're thrilled to pair this review with a GIVEAWAY of a signed copy of Soldier On! Entering is easy— use the Rafflecopter below! Giveaway closes FRIDAY, so make sure you enter! Make sure that you go to the two Facebook pages and it's easy as pie. Good luck!
"Giveaway ends on 10/19/2018 at 12:00 AM MST. Open to Residents of the US and Canada, including military service members and families with an APO/FPO address. Must be 18 years or older to participate. Winner will be selected at random by the Rafflecopter Widget and be notified by email. The winner has 24 hours to respond before a new winner is selected. The prize has a retail value of $21. Odds of winning the giveaway will be dependent on the number of entries received. Any taxes on winnings are the sole responsibility of the winner. Please note that neither Holly at Sisters of Katie Luther nor Vanessa Rasanen are responsible for undelivered prizes due to incorrect information provided by participants. The product included in this giveaway is free of charge, no purchase necessary. The opinions of the bloggers are their own and not influenced by any compensation. Facebook, Twitter, Instagram, and Bloglovin' are in no way associated with this giveaway. Information on this form is for the above-mentioned blogger alone for the purposes of contacting and delivering prizes to the winner. By entering this giveaway you agree that the above-mentioned companies and blogs, as well as their authors, will not be held liable for any claims concerning this giveaway."