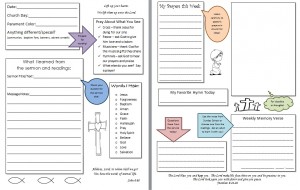 By Holly Scheer
Emma Squire created a lovely set of worship resources to use with children to help them be involved in church services. You can read the post and download the original set of pages here.
While we at the Sisters are largely liturgical and traditional in our churches, we know that some churches aren't as familiar with the technical terms. With that in mind, this new version will be appropriate for churches that have people less familiar with liturgical terms. Emma has created a sweet teaching tool that will help learners old and new learn more about the worship service!
Let's help all of our kids learn and grow in faith and love for Christ!
Thank you, Emma!