I'm Pregnant! Should I still take the Lord's Supper?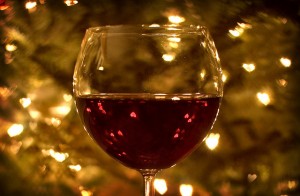 By Vanessa Rasanen
"Dear Katie Luther Sisters, I'm pregnant, and I just read newer guidelines that say no amount of alcohol is safe during pregnancy. Can I still partake in the Lord's Supper?"
Yes, you can, and you should. It's good for you and the baby. Next question…
I'm just kidding, of course. Not about my answer, but about that being all that needs to be said on the matter.
The Truth is the Lord's Supper is good — for both you and your unborn little one. It is there in the bread and wine that Christ our Lord comes to us personally, physically, and substantially to give us the very forgiveness our broken bodies and souls need. And this is forgiveness needed by both us and our little ones who are conceived and growing in the original sin that plagues us all. That forgiveness in our Lord's Supper is not just for us, but for our unborn as well.
But what do we do when the world tells us that alcohol — that wine — that Christ has instituted actually harms our little ones?
On one hand we can ignore all medical advice and claim nothing good comes from non-Christians speaking from their non-Christ-focused vocations and worldviews, essentially saying "lalalala I don't have to listen to you, pagans!" (Because we all know all medical professionals are pagans? Um… no.) But this overlooks the very real and substantial way God provides for us through our neighbors (even those non-Christian ones) to provide us the things we need in this earthly life……. you know, such as medical care.
On the other hand we could run away from the Lord's Supper, refusing to consume it at all costs for months and months. Or worse we could seek to corrupt this Godly gift into something it isn't to ease our world-focused consciences by substituting the wine Christ instituted with grape juice.
Neither is a good solution, as both lead us away from gifts our Lord provides either through others vocations or through His own flesh and blood. Yet this is no reason we mothers-to-be must fret or wring our hands. Our Lord provides for us. Yes, even in these confusing and trying and worrying times of pregnancy, He provides.
While no, our Lord didn't provide us with some low-alcohol wine specifically available for pregnant moms, He did provide us with pastors — steadfast men faithful to God's Word — to lead us through these confusing questions. It is in my own pastor I found two possible options for me in my pregnancies:
1) Understand that the wine consumed weekly in communion is negligible in the grand scheme of things and holds limited risk to me and my blessed little one in my womb…
or
2) Request a small drop of wine be added to an individual cup of water for me at communion throughout my pregnancy.
Regardless of what option we expecting mothers choose, the Truth we must hold to as we weigh our decisions with prayer and our pastor's guidance is that the Lord's Supper delivers to us the forgiveness of our sins, and it does this through the wine He instituted in His Sacrament and not in virgin substitutes we attempt to hock as "just as good", as if God's Word on His own Sacrament doesn't matter.
As with all my advice, though, I do recommend always seeking the guidance of the pastor our Lord has placed over your soul. He has that role for your good, please let him serve you in it.
Blessings to you and your new little one — and prayers for peace and guidance as you make so many tough decisions during your pregnancy and parenthood!