Better to Eat Bacon Than Listen to Christian Music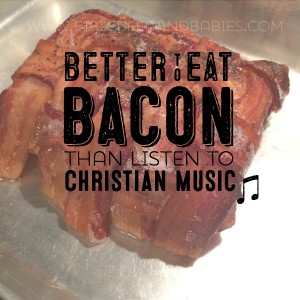 By Vanessa Rasanen
Imagine for a second that you are offered two plates. One piled high with bacon. The other with brightly colored vegetables. Which do you choose?
Bacon, we're told, is bad for us. While I think that's rather debatable, I wouldn't dare call it a health food. As such, I eat it rather sparingly — even if the 10 packs in my cart this last shopping trip suggested otherwise. I eat bacon, because I like it — not because I expect it to make me healthy or fit or improve my physique.
So naturally those veggies seem like a better option. But what if they're not regular veggies? What if these are veggies specially formatted by someone whose primary goal isn't your health, but is instead to make money? Not an evil notion in and of itself, as I'm certainly not anti-capitalism, but still, money can and does affect one's motives and intentions. So, instead of real, healthy, natural veggies, they've created these veggies laden with poisonous cancer-causing chemicals that will slowly make you go blind and die. Or something. They tell us they're healthy. They, in fact, look healthy. They smell healthy… but they aren't.
We have two options — the bacon we know isn't a health food, and the veggies we are told are healthy, but really aren't.
Because we know the bacon for what it is, and because we have the freedom to eat it, we do so… sparingly. We approach it for what it is — a delicious and delectable treat that isn't necessarily good for us, but also won't kill us in moderation.
Yet we assume the veggies are healthy and we trust the people hocking them, and therefore we let down our guard. We approach it assuming it's something it's not. We expect it to be good for us and to not hurt us. In fact, we expect them to help us, and so we eat as much of it as we can, not realizing that we are actually doing ourselves harm.
The same goes for entertainment — music, books, tv, movies. We have two options before us: secular entertainment and Christian entertainment.
Scripturally speaking we have the freedom to partake in either, just as we have the freedom to eat bacon or donuts or potato chips or anything else that isn't necessarily healthy. I hear often from folks claiming we should avoid secular entertainment – especially that which goes so strongly against our Christian values and beliefs. I hear often that we should instead turn to the Christian market, listen to Christian popular music and watch Christian movies and read Christian books.
But this isn't always wise.
Just as that plate of chemical-laden vegetables looks good and seems healthy, the vast majority of Christian media is crap. Much of it has doctrinal issues, twisting scripture into something it isn't, making God's Word about me me me rather than Christ, and pointing us repeatedly back to the law and a list of rules to be kept rather than the freeing news of Christ crucified for our sins.
Then there's the bacon… er… I mean the secular media. We listen to it, because we can. Because it's entertaining. Because it makes us laugh or cry or think. We don't — hopefully — partake in it looking for edification of our Christian faith. We don't watch a secular movie expecting it to feed our faith, nor teach us something about God.
Just as with those plates — we see the secular pile and we approach with caution. We know it can be harmful, so we enjoy it sparingly. We expect it to go against our faith, so we don't cling, but walk away when our conscience steps in, warning us to take a break.
But that Christian labeled pile looks all sparkly and Jesus-y, and we assume it must be good. We let our guard down. We tell ourselves it will strengthen our faith and teach us something about God. Yet the enemy loves to twist God's Word, convincing us God is saying something to us that He isn't. He loves when we let down our defenses. He loves to use God's name to point us away from Christ — especially if he can do so without our knowing, especially if he can do so while tricking us into thinking we are being faithful Christians.
Now I'm not saying all Christian media is horrible and false and will wreck our faith. But unfortunately, the Christian market is often more concerned with selling books and selling out concerts than actually preaching God's Word faithfully. It can become tiresome and challenging to constantly wade through it to determine what is edifying and what just sucks. And trusting it blindly invites bad theology and false teaching in — which is never a good thing.
At least secular media knows what it is, is honest about itself, and doesn't claim to be something it's not. Just as bacon is true to itself in all its fatty, delicious, and not-so-good-for-you-ness.
Unless it's turkey bacon.
That belongs with that pile of poison-filled vegetables and should be approached with caution.