The Night Will Soon Be Ending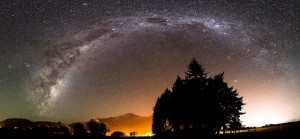 By Emily Cook
The glitter of Christmas has a way of highlighting the brokenness of the world for me. When Christmas is about the merely material side of things, it is as if the world gathers to string lights on platitudes and empty hopes, or to put frosting on a rotting cookie.
I see the emptiness of the platitudes, the rottenness of the gifts the world offers. Mere Christmas lights are not bright enough to truly pierce the darkness of this broken place, of our aching hearts.
And yet, we gather with our brothers and sisters in Christ, and we sing:
The night will soon be ending; the dawn cannot be far.
Let songs of praise ascending now greet the Morning Star!
All you whom darkness frightens with guilt or grief or pain,
God's radiant Star now brightens and bids you sing again.
We come with our fears, with our guilt and grief and pain, and we sing of the morning star who has come, who is coming. Salvation comes to us, not from us. It is not something we can bake or prepare or wrap or create for ourselves. We can only wait, with eyes to the sky.
The One whom angels tended comes near, a child, to serve; Thus God, the judge offended, bears all our sins deserve. The guilty need not cower, for God has reconciled through His redemptive power all those who trust this child. Eyes to the sky, heads lifted in confidence, we wait for our Redeemer to come to our darkness.
We have been complicit in this darkness, we have relished its cloak for our sins. We should fear the light, and yet we do not cower because God himself has commanded us not to. He has washed our hands, He has clothed us in Christ, He has lifted our heads and filled our hearts with hope.
Then people will see the Son of Man coming in a cloud with power and great glory. When these things begin to happen, look up and hold your heads high, because the time when God will free you is near! Luke 21:27-28
The earth in sure rotation will soon bring morning bright, So run where God's salvation glows in a stable's light. As old as sin's perversion is mercy's vast design: God brings a new creation — this child its seal and sign. Do you feel the urgency? Run! Run to your God, run to your salvation, run to your Jesus!
Surely sin will run its terrible course; would you be swept up in its river? Run from the flood to the ancient mercy, prepared for you from the beginning of the world, given by the Father, by grace through faith in Jesus. Yet nights will bring their sadness and rob our hearts of peace, And sin in all its madness around us may increase.
But now one Star is beaming whose rays have pierced the night: God comes for our redeeming from sin's oppressive might. We, too, have searched for peace in this place, but we find only that which is breakable. The works of our hands do not keep us secure, nor do they give us the rest we seek. We wait, in the midst of the whirling hurricane of sin, we wait for the strong man, our strong God-Man, who is mighty to save.
He is coming. God dwells with us in darkness and makes the night as day; Yet we resist the brightness and turn from God away. But grace does not forsake us, however far we run. God claims us still as children through Mary's infant son. God dwells with us, as light for our darkness, as life for our death, as salve for our wounds.
Yet, even our hymnody acknowledges our continued struggle with sin. We are God's children, and yet we find ourselves fighting Him, running from Him, ignoring Him, doubting Him. We pretend to look for Him and yet ignore the places He promises to meet us. Yet His light is a stubborn light, a persistent light, coming for us again in His Word and Sacraments, in His blessed means of grace, in His Son. Come, Lord Jesus!
In the beginning was the Word, and the Word was with God, and the Word was God. He was in the beginning with God. All things were made through him, and without him was not any thing made that was made. In him was life, and the life was the light of men. The light shines in the darkness, and the darkness has not overcome. John 1:1-5

Besides this you know the time, that the hour has come for you to wake from sleep. For salvation is nearer to us now than when we first believed. The night is far gone; the day is at hand. So then let us cast off the works of darkness and put on the armor of light. Let us walk properly as in the daytime, not in orgies and drunkenness, not in sexual immorality and sensuality, not in quarreling and jealousy. But put on the Lord Jesus Christ, and make no provision for the flesh, to gratify its desires. Romans 13:11-14
The Night Will Soon Be Ending LSB 337