Loving Your Neighbor When You Don't Like People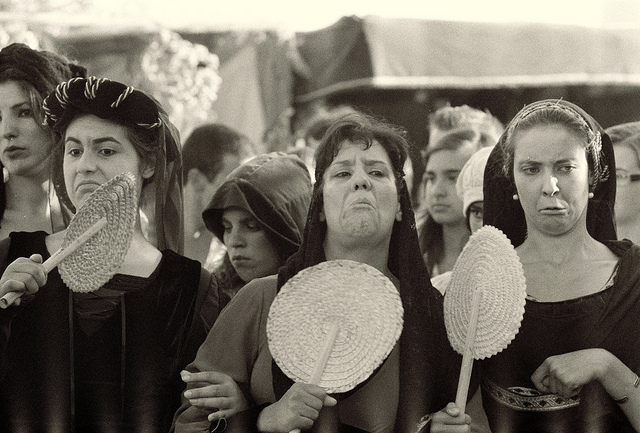 By Vanessa Rasanen
People are idiots.
There, I said it. There are the morons who couldn't be bothered to actually read my writing before commenting……. you have the time to write a scathing comment accusing me of taking my children to dive bars where they aren't allowed, but you couldn't take the five minutes to read where I specifically say we don't do that?
Awesome.
Then there are the people who take your position on one thing and twist it into meaning something completely psycho — because of course, my wanting a big family must mean I look down on people who don't have children or don't want a big family, too… obviously my desire for kids means I think y'all are horrible, no-good, child-hating people.
Wait. What?
Oh, oh… and those who think if you favor small government, you must be for no government (um…… what?)…
… or those who insist if you ever possibly dare utter even any hint that you might desire a quiet moment away from your children, this MUST mean you hate being a mom, are crap at doing it, and shouldn't have ever bothered to have them in the first place — because, clearly, you should have put them up for adoption if you couldn't be joyful, happy, and super-excited-bouncing-off-the-walls-thrilled to spend every waking (and sleeping) moment with your offspring.
Whew.
Yup. I generally dislike people.
Okay… not all people. I do like some of you. Promise! But I'm easily irritated and annoyed, and also a bit of a hermit and curmudgeon. It takes me a while to work up to going out and being around people — though once I'm there, I'm usually happy………. for a bit. Then I get pissy, irritable and just need to crawl back into my hole to recover (hopefully before I say anything I'm thinking out loud).
And despite the tone of this piece thus far, I do actually hate this about myself.
I don't like disliking people. I want to like them and not curse them in my head when they annoy me. I want to be pleasant with them — genuinely pleasant, and not superficially so due to a societal demand for politeness.
But here I am. Still hating people (again, not all of you — take it easy), perhaps not as much as I used to in the past — believe it or not, I've actually come a long way. I'm fairly certain, though, that I'll never stop being irritated and frustrated with my fellow neighbor.
For I do not do the good I want, but the evil I do not want is what I keep on doing. Now if I do what I do not want, it is no longer I who do it, but sin that dwells within me.

Romans 7:19-20
Stupid Old Adam!
But this is the point. As long as we are tied to this earthly flesh, we'll be tied to our own annoying, sinful idiot, Adam. I want to be kind to my neighbor, not just outwardly, but in my mind, too… but I keep doing what I don't want. I keep letting the irritation and the pissy attitude get the better of me. I swear at my neighbor and yell at them — even if just in my head. I think ill of them and vent to friends about them and do all the things I know I shouldn't do. It's this evil I don't want to do that I keep on doing.
Yet I try. Every day. Not because this trying saves me, or because this effort of my own gets me any closer to Jesus or God or my reward in Heaven. But I try, because I am saved, and I have been forgiven.
There is therefore now no condemnation for those who are in Christ Jesus. For the law of the Spirit of life has set you free in Christ Jesus from the law of sin and death. For God has done what the law, weakened by the flesh, could not do. By sending his own Son in the likeness of sinful flesh and for sin, he condemned sin in the flesh, in order that the righteous requirement of the law might be fulfilled in us, who walk not according to the flesh but according to the Spirit.

Romans 8:1-4
Sure, there's been improvement (as I said before). I can look back at my formerly atheist, incredibly self-centered past and see just how horribly terrible I was. I can see how my behavior has improved, my worldview has shifted, and my desire to do better has grown. Yet a sinner I remain. And lest I ever forget that, there's my Old Adam again to remind me of that very point when he tries to get me all puffed up with pride for how well I've done in improving. Vicious cycle, I tell ya.
But vicious cycle, Old Adam, and fallen world be damned. For Christ has conquered all of it. For me. And for you. So we sin. We repent. We are forgiven. We repeat. All the while loving God's Law that guides us and holds us on this narrow path — even if it hurts to face our sin and sucks to realize our inability to do anything about it ourselves. And all the while resting in the truth that this good and perfect Law of our Lord has been fulfilled for us by the death and resurrection of His Son, Jesus Christ.
So yeah. I think people are idiots, and I hate thinking that. I don't revel in it — I'm simply being honest with you. I am to love my neighbor, as myself, and to serve my neighbor in all things. Even when I don't particularly like them. I won't ever do it perfectly, and quite possibly won't ever do it all that well either…
…but I'll try.
Photo credit: "Gossip Girls" by Miguel Pires da Rosa licensed under CC BY-SA 2.0