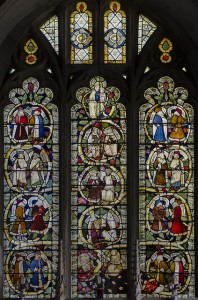 By Amanda Markel
It seems people are talking about New Year's resolutions before the Christmas wrapping paper has been cleaned up (if not sooner). There's something about the start of a new year that inspires people to make a fresh start, to try something new, to improve something about themselves.
I'm not a big fan of New Year's resolutions (how many of them are still kept by the time you get to spring?), but I do think focusing on some new disciplines at the beginning a new church year church year is a great practice. The first Sunday in Advent has ushered in that new church year…have you considered how you might do this in your life?
Perhaps your personal devotional life has fallen by the wayside. Advent is a great time to renew this practice, and it can be as simple as reading through the Daily Lectionary. Advent is also an easy time of year to get started. If you use a book like the Treasury of Daily Prayer or the Christian Year of Grace to guide you through scripture and prayer, you don't even have to worry about figuring out where to begin, as both books start with the first Sunday in Advent. So open up to the beginning, and make spending time in the Word and prayer a part of your day!
The season of Advent also provides extra opportunities for worship in the form of midweek services. What better time than that extraordinarily busy time leading up to Christmas to take a break from the world, and focus on Christ, and the reason for His coming? Many churches also offer a midweek meal to go along with these services, so you have the added benefit of time for fellowship with your brothers and sisters in Christ, something that can be easily neglected in the hustle and bustle of the holiday season.
In addition to corporate worship, Advent is also a good time to add a prayer service (separate from your devotional time), into your home life. Lutheran Service Book has daily prayer services for morning, noon, early evening, and the close of the day. Consider adding one of these to your Advent routine, maybe at a different time of day from your devotional time. If you go through the Treasury of Daily Prayer in the morning, for example, perhaps use the service for prayer at the close of the day before retiring for the night. Or maybe you have an extended lunch period at work. Instead of using it to run frantic errands, bring your hymnal with you, find a quiet spot, and pray through the noon service. Find the time of day you're most likely to stick with the practice, and get started! Depending on where you choose to pray, this can also be done in conjunction with the lighting of an Advent Wreath, which brings two separate practices together nicely.
Take some time to learn about some of the well-known Advent traditions like the Advent wreath, the Jesse Tree, and the Great "O" Antiphons. These are not just empty practices or traditions that are familiar but meaningless…they, too, point us to Christ. The Advent wreath, for example, not only visually reminds us of the coming of the light of Christ as another candle is lit each week leading up to Christmas, but each candle also has its own meaning. It also ties together our life of worship in the church, and our home devotional time, and these reminders are beneficial. The Jesse Tree, while often thought of as a tool for teaching children, does a great job of instructing believers of any age about the family tree of Christ. And the Great "O" Antiphons not only walk us through the verses of the familiar Advent hymn "O Come, O Come, Emmanuel," they also teach us some of the names of Christ that are found in the Old Testament, and what they mean.
As a penitential time, Advent gives us a great opportunity to step back from the busyness that comes with the holidays, and focus on Christ. Yes, it is something that we must force ourselves to make time for, but especially at this hectic time of year, it is a much needed, and very beneficial practice!