Observing Advent with Children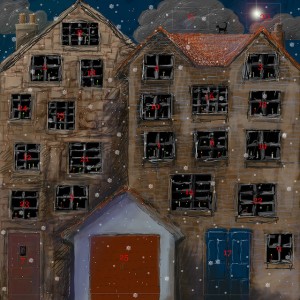 By Amanda Markel
The days leading up to Christmas are busy days, and are made even busier for families with small children. It can be easy to lose track of what we're preparing for, and focus on the more worldly aspects of the Christmas season. But, we also have the gift of the church year, which sets aside the weeks before Christmas as the penitential season of Advent—a time to slow down and reflect on Christ's coming, both as a baby in Bethlehem, and on His eventual return.
You may be wondering how to get your children's focus off of Santa and gifts and cookies, and on to Christ. There are several easy things you can do to make sure your children understand what we're waiting for, and why we're celebrating:
Worship

—In addition to regular Sunday morning worship services, the season of Advent is full of extra opportunities for worship. Midweek services are a staple of this season. Carve out some time in your week to attend these services with your family! Your church may even offer other services during this season…lessons and carols are another popular choice. These services, too, are a great chance to join with your brothers and sisters in Christ, and prepare for the time of Christmas. Just because you attend Sunday services doesn't mean you won't benefit from the special services, as well, so make sure you're at church at every opportunity!

The Advent Wreath

—Churches make use of an Advent wreath throughout this season. Each Sunday before Christmas another candle is lit, until all four candles are shining, and visually reminding us that the time to celebrate Christ's birth is almost here. You can also use an Advent wreath at home. If you don't want to make one, they are easy to find at Christian bookstores. Of the four candles, one will be pink, and three will be either blue or purple…pick the color that matches what your church uses, and set up your family wreath. Some families like to light it every day as part of their devotional time, some light it only on Sundays, perhaps during dinner. Figure out what works for you, and make it a part of your Advent routine. Don't simply light it, though…discuss it with your children. What do the different candles represent? Why is only one of them pink? Why are the others blue or purple? Consider singing a verse of "O Come, O Come, Emmanuel," ( or another Advent hymn), as you light the candles. Anything you can do to make the connection between church and home stronger will only benefit your children.

The Jesse Tree—One of the easiest ways to bring Advent into your home and teach your children about it is to utilize a Jesse Tree, which is basically Jesus' family tree. It doesn't just  focus on Jesus' family, however…it also focuses on other people and prophecies leading up to His birth. There are Jesse Tree kits available for purchase, or you can make your own ornaments. You can use an actual tree, or a cardboard cut-out on the wall, depending on what kind of ornaments you have, and how much space is available. The important part is going through the readings for the Jesse Tree and sharing with your children the familiar Bible passages of the Advent season. There is also a visual connection in the ornaments to make it easier to remember and comprehend.
The Great "O" Antiphons—Going through the Great "O" Antiphons (which correspond to the verses in "O Come, O Come, Emmanuel"), as a family in the week leading up to Christmas is another way to make sure you're focusing on the season of Advent in your home. Often, the week before Christmas is the busiest for us, which makes it even more important to slow down and focus on Jesus. The Old Testament names for Christ mentioned in these antiphons each tell something about who He is. You can even make or buy ornaments to go along with these verses, and they can hang alongside your Jesse Tree ornaments, further illustrating the prophecies that tell us about Christ.
Commemoration Days

—Our church calendar is full of commemoration days, and that continues to be true throughout the season of Advent. It can be challenging to find ways to recognize these at home, but some fun, oftentimes cultural, traditions can make this easier at Advent than any other time of the year. There's an old expression, "St. Nicholas for children, St. Thomas for the old…" It's not uncommon for families to already do something to celebrate the commemoration of St. Nicholas with their children, but instead of focusing on Santa, as many do, focus on the real man, who was Bishop of Myra. Read

Saint Nicholas: The Real Story of the Christmas Legend

. together, and discuss how God used Nicholas to spread the Gospel of Christ. On December 21, which is the commemoration for St. Thomas, try to visit some of the elderly members of your congregation, particularly shut-ins. Many of these homebound members are especially missing having visitors at this time of year, so take so time out of your schedule to share the love of Christ with them. There are other days, as well…learn what Christmastime in Sweden looks like on Lucia's commemoration day, or tour a church named for St. Ambrose (who is famous for penning the words to the much-loved Advent hymn, "Savior of the Nations Come"), on his commemoration day. Simple activities that make these Saints come alive for your family, and help your children see how God has used people throughout history to do His will, are especially beneficial during this holy season.
These are just some ways you can make Advent an important part of your family's observance of the church year. You don't have to add all of them at once, but try something new with your family this season…you won't regret it!