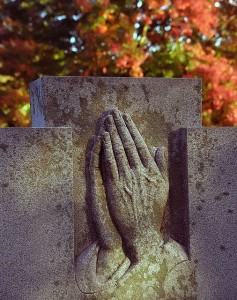 By Pam Thompson
Thirty years ago on my Confirmation day my now sainted Godmother Louise gave me my very own Bible. Inside the front cover in her flawless script she wrote, "When in need, pray. When you have received, give thanks."
And so, for thirty years, my prayer life has grown.
I'm not a flowery or showy pray-er. If asked to pray in front of a group, I will almost always rely on The Lord's Prayer or Luther's Morning or Evening prayers. But this, by no means implies that I am a weak pray-er. I take very seriously Paul's admonition to the Thessalonians: "Be joyful always; pray continually; give thanks in all circumstances, for this is God's will for you in Christ Jesus" (1 Thess. 5:16-17).
My prayer life then is more of a running conversation with God. While I try to begin my day with a simple devotion and prayer, I often fall short. And, if my daily prayer required me to retreat to a quiet place and spend undivided time in prayer, sadly, I would never have time to pray. This may be a sad commentary on my time management skills. However, I am certain that I am not alone in this.
So, in my early years of mothering, I determined to pray right now, rather than saving up my prayers for a prayer time that may never take place. In my head, I refer to it as, "Drop Everything and Pray". So, this means if a friend calls me to ask me to pray for them, I do it, right then. It is usually a very simple prayer — like "Dear God, thank you for the gift of my friendship with Kate, please be with her and guide her doctor's hands as she undergoes surgery tomorrow. Give her comfort and the peace that only you can give. Amen." I pray short prayers like this throughout the day.
I understand the power of prayer. I understand our prayer time helps us draw near to God. And I know my prayers are heard.
Over time I began seeing my Facebook newsfeed as kind of a scrolling prayer list. So many of my friends are in need, hurting, and even rejoicing! There is no shortage of natural and man-made disasters to pray about. So, as I saw something that needed to be lifted in prayer, I did it right then.
About a year ago, I began setting aside a day, Wednesday, to take prayer requests on my blog's Facebook page. Honestly, I figured it would be a one week thing and there would be little or no interest. But instead I found that not only were readers responding with their prayer requests, but they also began responding to others' requests with the assurance that they too were praying, and began asking each other, and me, how they could pray for each other.
And this is where I wish I had kept a prayer journal.
I don't envision a prayer journal as a place where I inscribe my flowery prayers–though I am aware that this is how some keep them. I would like to, eventually, keep a journal with prayer requests and a record of answered prayers. Some answers are easy to discern. A friend is healed, or she is not. Jobs are acquired, or not. Sometimes houses sell smoothly. Sometimes children begin making better choices. But sometimes God's answers are not as clear. And this is where I wonder if keeping a record of prayers may make things clearer to me.
But, did you see that word "me" up there? I'm guessing if I were to journal my prayers it would be more about me than about God, which is why I've resisted.
What I do know, is that God hears my prayers, whether they are eloquent or not, and whether I have written them down or not. I do know that as un-fancy and as un-scripted as it is, my prayer life is something I value.
I'd love to hear what your prayer life looks like. Do you journal your prayers? Do you struggle with finding the right words to say? When do you pray? Continue the conversation in the comments.