On Contention, Love, and Feelings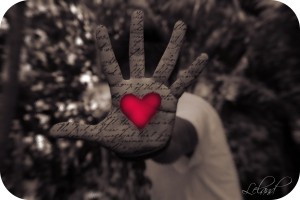 By Holly Scheer
Have you ever found yourself in a discussion that, when it turns heated, becomes more about feelings than facts?
If so, you may have found it to be a frustrating experience. I know that I do.
Most people don't want to proceed when someone says that a certain line of argumentation is upsetting to them or is hurting their feelings. Our natural care for each other can cause us to pause and reflect at this moment.
It's never, ever a bad thing to think through thoroughly whether what you are saying in the moment is true, needful, and appropriate.
Sisters, sometimes we have to speak hard words to each other. Sometimes we have to have hard words spoken to us! It's never really fun to be reproached by others, nor is it something that most people seek out.
Who wants to be wrong?
Let's talk about love for a moment. Let's talk about the love that we have as family in Christ. What does it mean? What does this love look like, and how do we show it to each other?
Most of us have John 3:16 committed to our memory.
For God so loved the world, that he gave his only Son, that whoever believes in him should not perish but have eternal life.

What beautiful words. What deep words. God loved the world and He gave His Son. His only Son. The proof of God's love is that Jesus was sent. God giving His Son And He didn't give him to happiness and ease– He gave him to suffering and death on the cross.
That doesn't sound like love, does it? Not the way love is often portrayed. But love wants what is best for the beloved– and what was best for the world, for us, was not eternal separation from God and Hell. It's salvation and grace. It's forgiveness and peace. It's hope in life in Heaven.
That's love.
1 Corinthians 13:4-7 tells us more about love:
4 Love is patient and kind; love does not envy or boast; it is not arrogant 5 or rude. It does not insist on its own way; it is not irritable or resentful;[a] 6 it does not rejoice at wrongdoing, but rejoices with the truth. 7 Love bears all things, believes all things, hopes all things, endures all things.
Love is more than warm feelings and affection. Love rejoices in truth– and is willing to endure all things in the name of love.
When we disagree (and we're sinners, we're going to disagree) try to remember that we are family. If you love someone and they are in error, correct them. Love does not want to see someone in danger, whether that danger is physical or spiritual. If someone who loves you is arguing and correcting you, pause and reflect and search out to see if it's possible that you are wrong and in care, concern and love they are trying to pull you back from the edge.
Our feelings are not always the best judge of the reality of situations. Feelings can be misleading.
The Bible will never mislead us. Our Lord never will mislead us.
Pax.