Easing the Back to School Anxiety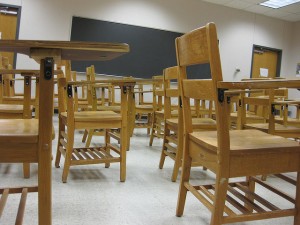 By Pam Thompson
Today is something like my 14th or 15th first day of school as a mom. It is hard to count, since we homeschooled our oldest for Kindergarten in a very laid back manner, so I'm not sure we even took a photo. Today my two youngest children are enjoying their very first day of kindergarten.
For kids, the first day of school in generally an exciting time (even for the kids who pretend to hate that summer is ending.) For moms, this time can be wrought with anxiety and worry.
I will share some of the things that have helped me ease into the transition of summer to school year over the years.
Pray.

When anxious thoughts creep in, and they often do, I stop for a moment and ask God to simply calm my anxious heart. When I take time to acknowledge that every situation is not mine to control, I feel God's peace settle over me.

Praise

. The beginning of each school year is an acknowledgement of the growth and development of my children. Each year they are able to do more and reach higher. I take the time to point out to each of them just how far they have come in their educational journey–even if they are just at the beginning!
Give Thanks.

We take the opportunity at the beginning of the school year to renew our family devotion time. Ours is very simple, with a litany from the Lutheran Service Book, a reading, a hymn, and closing with the Lord's Prayer. As the year progresses we will add in last minute review of memory work for religion class. Advent and Lent also give us pause to renew this devotional time as a family, as we are often pulled off track. For us this time works best in the morning before leaving for school, but other families find it works better around the dinner table or at bedtime. Remember that this time can be very simple and does not require any "helps" or books, though there are many worthy ones available if you want them.
Pray for Your Child's Teachers.

You know as well as anyone what a joy your child is. You also are very aware of the challenges your child faces and presents. Pray for his teachers that they may be granted wisdom, patience, and eyes that see the blessings of your child.
Don't Worry About Pinterest.

If you want to make a fancy first day of school poster, go for it. If you have a lovely background to snap a photo in front of, great! If you love making four course breakfasts with coordinating decor, come to my house. Seriously. Do not allow yourself to get caught up in the should dos and the should haves. What your child really needs is you, food, shelter and Jesus. If you are giving her those things, she is more than equipped for a successful first day of school.
Take Time to Breathe.

Make sure that you set aside a few minutes after that first day drop off to take a little "Me Time". For me today it was sitting and sipping coffee with mom friends for the half hour before opening chapel. It set my heart at ease, and gave me a chance to re-connect with my "teammates" for the next year.
Remember that your child is a child of the heavenly Father. God will protect and defend his children, even your child, throughout the coming year. Rest in His promises. Be at peace.