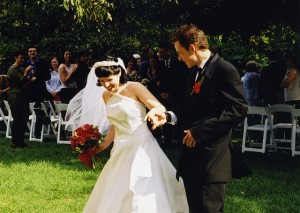 By Amanda Markel
Let me tell you a funny story about my wedding.
In the months and weeks leading up to the big day, my almost-husband and I worked diligently with our pastor on the service. Of course, we were using the standard wedding rite from the hymnal, but there were gaps to be filled in with Bible readings, hymns, and instrumental music. The pastor had suggestions, but we had to choose the final details. And, after reading through many Bible readings and hymns, and listening to lots of music, we had all the decisions made, and were ready to have the bulletins printed. I can't tell you how many times I went over the the final draft, looking for any possible spelling or grammar errors, or the wrong verse to a hymn listed, before my husband took them to work at his part-time job with the print services department of Concordia University-River Forest, so he could print them during his down time.
The bulletins were beautiful. The cover image was lovely, I loved the tri-fold style, and everything we wanted to have printed in them fit just right. And I thought all of the choices we had made were perfect for our unique wedding. I lovingly put the box aside until the big day, eager to see our wedding service unfold.
It's a funny thing, when you're standing up there at the front of the church through the service, especially when you're an introverted bride. I could feel every eye in the church boring into my back, and let me tell you, when you're an introvert, that is NOT a good feeling. The sensation of my tiara and veil perched somewhat precariously on my head felt surreal. The weight of my long train behind me was overwhelming. The lights were bright and hot, and I was nervous, almost shaking, but also giddy with excitement.
You know how they say, "Man plans…God laughs?" Standing up there, feeling all those things, was the beginning of a moment where I thought I was actually having an out-of-body experience. Because the pastor…not the pastor who was supposed to perform the ceremony, as he was called away on an emergency, but an assistant pastor that had just gotten back from a trip, began reading the Gospel lesson, which was also the sermon text. And despite all my careful planning, it didn't make sense. Not only was it not the text we had chosen, but it had nothing to with marriage AT ALL. As a matter of fact, it was about MONEY.
I couldn't believe what I was hearing. I was frozen…but there was nothing I could do, anyway. It's not like I could stop the reading in the middle! My mind was scrambling, trying to figure out how this mistake had happened. Was he so sleep-deprived from his travels that he read the wrong thing? Or the unthinkable…had all of my proofreading not been enough? Did I screw up something that big? And as I stood there, frozen, face-flaming as the entire assembled congregation heard this reading that made absolutely no sense for a wedding, it hit me. The sermon would, likewise, make absolutely no sense for a wedding.
In his defense, the pastor, working on little sleep, and with very little prep time, somehow salvaged my mistake, and preached a sermon that was actually appropriate for a wedding, with just a bit of stretching. I still don't know how he did it, but I am very grateful that he was able to share God's Word in a way that didn't leave me looking like a total idiot in front of all of our assembled family and friends, although I'm sure some of them were wondering why we did choose that particular text in the first place.
I imagine most pastors, church secretaries, and office volunteers know from experience how I felt that day. Something that I had put so much time and effort into planning, that I thought I had taken so much care with, just about unraveled because of a typo. And I know that despite other people's careful planning, the same thing happens in churches around the world, on Sundays and other special days. But isn't that the way it goes? Even at a joyous occasion like a wedding, there is still evidence of sin in the world, in the form of a little mistake, of a bride focusing more on her terror than on the words being spoken, on a congregation possibly distracted and wondering "What the heck were they thinking?!?"
But even in the midst of our mistakes and sins, big and small, God's grace is always there. Grace that permits a pastor to speak the truth of God's Word, even when the text wasn't what anyone was expecting. Grace that allows the happy couple to look back on a mistake and laugh with fondness at the memory. Grace that opens the ears of the hearers, even in their confusion.
Looking back, this was actually a great way to start our marriage. Because, as any married couple knows, marriage is full of mistakes, large and small. But God's grace is central to the Christian marriage, and allows husband and wife to extend grace to each other. So, even though our wedding ceremony didn't go off without a hitch, it was the perfect introduction to Christian marriage!