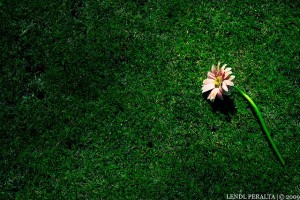 By Ellie Corrow
Most children, especially girls, assume they will one day grow up, get married, and start a family. This is a dream that is not qualified with an "if" but a "when" and a goal that marks an unequivocal entrance into adulthood. Some people have no trouble achieving this, meeting the right person at the right time, and no one's timeline suffers accommodation and adjustment. But, others don't have this experience, instead they wait, and wait, vaguely wondering if they are running out of time, if there is someone out there for them.
It's a difficult place to be in, when life doesn't work out as you expected. Remaining single, despite your best efforts, can be especially hard for many reasons—you feel like you are still waiting for life to start, many (or all) of your friends are married, and much in the church and the culture seems to assume that singleness is brokenness that requires some kind of fix. It's too easy to wonder if you really are defective, too picky, too introverted, too… fill in the blank.
In response to this comes the well-meaning parent, friend, aunt, church member who assures you that God has just the right person out there for you. This where a steady diet of romantic comedies meets theology, and one wonders if today is the day you will spill your latte on a hot, single, Lutheran guy, who was waiting for a girl such as you.
I wish I could tell you that God has the perfect person out there for you, and He is carefully orchestrating your life, so you will not only meet him, but so you will be completely prepared for life with him when he comes along, but I can't. Scripture nowhere promises us spouses, or children, or houses with white picket fences. It's a hard word, I know, but bear with me, this isn't a time for vacuous platitudes, this is a time to look to the truth of God's Word, and the good, gracious promises we are given.
What does Scripture say about being single? Scripture says that it is a good thing (1 Cor 7:8), Paul even goes so far as to say that he wishes people would remain single, as he is. Wait, what? How can this be a good thing when it feels like a trial? I bet you're thinking that the "gift of singleness" is for people who don't want to be married, but you do, so you don't have that gift. Actually, no. A gift isn't defined by how we feel about it, its status as gift is assigned by the giver. A gift is a gift because it has been freely given, without any merit or worthiness on your part. Does this mean it's forever? No. Lutheranism does not have an office of celibacy, and your current singleness does not mean you have been called to reject all future suitors, it simply means that right now, for a spell, you have been given this gift. You know this because you are not married. It's really that simple. No tea leaves, no chicken guts, just good, old-fashioned vocation.
How can this be a gift? Just because you're single, it doesn't mean you don't have neighbors, it simply means that, quite possibly, you do not have the neighbors you wish you had. Another tough point, and I'm sorry to lay this on you, but we do not serve hypothetical neighbors, we serve real, flesh and blood neighbors who are in front of us. Life doesn't always give us the neighbors we wish we had, instead it gives us sinners in need of our love and service. All of our vocations, whether as spouse, mother, deaconess, or corporate lawyer, provide us with the opportunity to serve under the cross, in the grace, mercy, and forgiveness of Christ. Because you are single, you now have greater opportunity and flexibility to serve those around you.
But, but, but… I still don't like it. Okay, let's try a different approach, shall we? Let's change the circumstances a bit, and pretend you are married, and your spouse is perfectly adequate, but isn't quite everything you dreamed of, and, well, you just don't want to be married to him anymore. Does this mean God has not given you the gift of a spouse? No. You know you have the gift of a spouse because, well, you have a spouse. Or what if your children aren't Pinterest perfect (hard to imagine, I know), and you're left wounded by their selfishness, faithlessness, and general rotten sinful selves, does this mean you get to decide to stop being their parent? No, of course not. It is the same for you, as you struggle to make sense of your status as a single person—it is, for now, your vocation, one to be embraced, accepted as a good gift of our gracious God, in which you're given to walk as a baptized and redeemed sinner.
So does all this mean you should not desire marriage and family? No, of course not. These are also good things. Feel free to utilize online dating, get yourself out to singles groups, pay attention when a friend says she has a friend who would be perfect for you. Marriage is also a good thing, and there's absolutely nothing wrong with it, you're free to pursue it in whatever way best suits you. Do not, however, wait to start your life until you find Mr. (or Mrs.) Right, your vocation is where you are at, thank God for it, see the ways in which you may serve, and go in the grace, mercy, and forgiveness of Christ.
I know I make this sound easy, but in those dark days, where you resent what He calls a gift, go to Him in prayer. Though He has not promised you a perfect spouse, He has promised to hear those prayers, to provide everything you need to support this body and life, to never leave you or forsake you, and to forgive all your sins. I know you often feel alone, but you are never alone, even the single person is united with Christ in baptism, joins in the whole company of heaven at the Lord's altar, and if that is not enough, there are plenty of neighbors who would benefit from your gifts—the elderly, the homebound, the widow, the lonely outcast, the recently-divorced co-worker who wants someone to join her in margaritas.
The whole body of Christ aches in this vale of tears, you are not the only one suffering, but we bear one another's burdens in prayer, acts of charity, hospitality, and mercy. As you bear this burden, know that you do not walk alone, as you carry another's burden, so they also carry yours. Avail yourself of the body, let saints in your congregation hear your doubts, fears, and let them pray for you, as you would also joyfully do for them. Because, as we come to grips with our weakness, our fears, and our doubts, a funny thing happens, Christ takes our heart of stone, perhaps even our idolatry of family life, and gives us a heart of flesh, not because we followed the right program, but because weak, frightened lambs are the specialty of the Good Shepherd, who lays down the life for His sheep. Even the single ones.
Photo credit to Lendl Peralta. Licensed under Creative Commons.