Lutheran Labor Singers–satire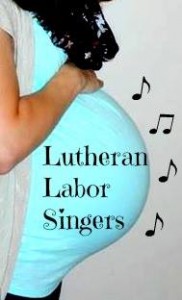 By Emily Cook
(This post is a lighter and silly one)
This week, I was blessed to meet for tea with a special woman: Topanga Lovegood. Topanga is the president of Lutheran Labor Singers, Inc., a brand new Lutheran ministry (official synod endorsement pending.) She was joined by Soliel, the very first mother to make use of this unusual ministry.
Soliel, a self-described "natural mother," spoke to us wearing her baby. "It all started at our women's Bible study. I was weeks from delivery, and planning my own home birth. I considering how to bring my child into the world in the best, most natural, most peaceful way possible…"
"And we offered to help!" Topanga chimed in. "It was perfect timing: we had just finished a study on our great Lutheran hymns. We'd all learned so much about our rich musical heritage. It only made sense for us to join together in song for such a perfect occasion!"
Soliel nodded. "I grew up in the Lutheran church, and my mother plays the organ. I cannot think of my own childhood without hearing the comforting sounds of Lutheran hymns at church, at home, and even in the car. And yet, it seemed odd to me… never once did my mother or grandmother have a choir involved in the childbirth process. I think the faithful of today need to take the next step and make that happen."
"That's how we got our first official gig- I mean, service opportunity." Topanga smiled. Each member of the local choir, aptly named Pla-SENT-a (SENT to Celebrate New Life), pledged to be "on call" when the time is near. For Soliel, they got the call at 3am. By 3:15, all members of the choir were assembled in Soliel's front yard, and singing commenced. They sang without respite until the baby was born and born again in the waters of Baptism.
"It was exhausting, actually," admitted Topanga. "but in a way, we felt like we got to share the labor experience with our dear friend. And, because we sang for five hours, we got to sing every verse of every hymn in the Lutheran Service book. Not many people can say that."
The baby, named "Paulina Gerhardt " was welcomed into her mother's arms while the ladies of the church sang outside her bedroom window. Do the Labor Singers have plans for the future? Topanga is optimistic. "We haven't had many other service opportunities, but we hope with more exposure, faithful Lutherans will embrace this ministry wholeheartedly. We envision a new generation of Christians swept into the church from the moment of their birth, riding on the songs of the faithful into the arms of Jesus."
Labor Singers choose songs chiefly from the Lutheran Service book, though several hymns have been modified for the unique occasion (See samples below.) If you are interested in the services provided by Pla-SENT-a or other Lutheran Labor Singers, leave a comment.
Pla-SENT-a Playlist
Come we that love the Lord and let our joys be known
Join in a song with sweet accord
Join in a song with sweet accord
And thus surround the labor bed, and thus surround the bed
We're waiting for baby
Beautiful beautiful baby
We're waiting for the sweet baby
The next little child of God
————-
For all the saints who forth to labor go,
You, who the pain, and the joy you're yet to know
Soon from your womb will blood and water flow
Alleluia, Alleluia
And when the pain is fierce, the pushing long
Falls on your ear our lovely triumph songs
We'll sing beneath your window, helping you along
Alleluia, Alleluia
But Lo there breaks a yet more glorious night
When milk flows abundant and shirts are now too tight
Home full of love and snuggles left and right
Alleluia, Alleluia
——————–
Come thou fount of ev'ry blessing,
Tune my heart to sing thy praise
Streams of mercy, never ceasing,
Call for songs of loudest praise
While the hope of baby snuggles fills my heart with love and joy
I can't wait to know the answer- will it be a girl or boy?
Here I prep my birthing items
For the midwife when she comes
And I hope if all goes smoothly
Safely to give birth at home.
Prone to worry, Lord I feel it, prone to stress and prone to fear!
Hold me close, Lord, in your presence.
I am safe when you are near.
—–
Oh that the Lord would guide my babe
To come out soon- with ease!
Oh that my God would make it quick
And healthy- pretty please!
—
I am trusting Thee Lord Jesus, trusting only Thee
Trusting Thee for this sweet babe's delivery.
I am trusting Thee for patience when the wait is long,
Trusting Thee to make my soul and body strong.
I am trusting Thee to handle all the other chores laundry, dishes, bedrooms, baths and sticky floors.
I am trusting Thee Lord Jesus, knowing you made me
You equip us when you call us- equip me!
—–
Entrust your days and burdens
To God's most loving hand;
He cares for you while ruling
The sky, the sea, the land.
For He who guides the rhythm
Of growth and life in you
Will send and end to waddling
When gestation time is through
Leave all to His direction; for what else can you do?
Our hands control nothing that matters- this is true.
No nesting goals, no meltdowns no superstitious plans
Can make that baby come out
It's in Your Father's hands.
O bless-ed heir of heaven,
You'll hear our song resound
Of endless jubilation
When baby finally comes around In your right arm your midwife
Will place your slippr'y babe
And hubby will thank you gladly in awe at how you're made.
Photo Credit to Emily Cook.