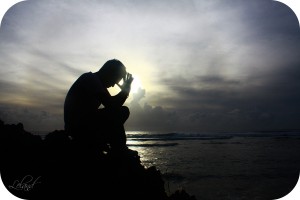 By Holly Scheer
My prayer life has changed as my life has changed.
When I was younger, the main prayers I can remember saying were the ones at bedtimes and meal times. The bedtime prayer I grew up with is the one I have taught my own children,
"Now I lay me down to rest/ Angels guard my little nest/ Like the wee birds in the trees/ Heavenly Father please care for me/ Amen."
We've also taught our children Luther's Evening prayer and they pray that before going to sleep.
The older I get, the more prayer has become intertwined to my daily life. We pray before we eat, we pray with the children. But there's also the silent prayers I say throughout my day.
Sometimes it's the Lord's Prayer. Sometimes it's closer to me begging God– please, please, please help, please keep my children faithful, healthy, safe.
Sometimes it's rambly prayers of thanksgiving and joy, or of sadness and despair. I pray while I garden under the hot sun, I pray when I lay in bed trying to sleep.
I pray that my children stay in the faith, that their future spouses are safe and being raised in the faith, and for the increasingly long list of those I know who have asked for prayer.
When life is good I pray, but not as much as when life is tough. God is there when it feels like the whole world is falling apart.
"Can a woman forget her nursing child,
    that she should have no compassion on the son of her womb?
Even these may forget,
    yet I will not forget you." Isaiah 49:15
Our Jesus isn't the Jesus of good times or bad, He is our Jesus for all our times. Even those when our only prayer is just, "Help!"