Teach Chastity Not Purity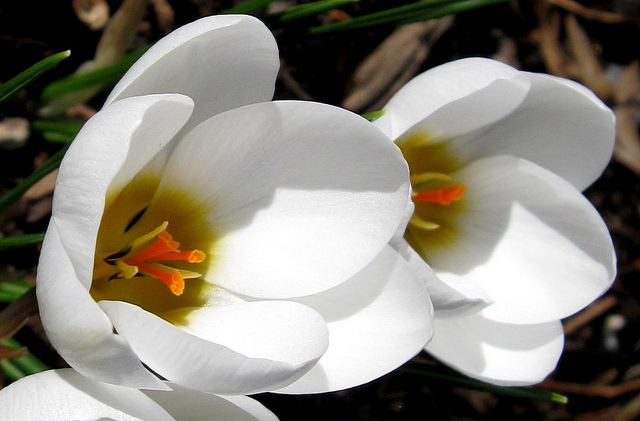 By Amanda Markel
For as long as I can remember, and maybe even longer than that, American evangelicals have focused on purity when talking to their children about sex.
On the surface, this sounds good. Purity goes hand-in-hand with abstinence-based sex education, and that tends to be the goal of most Christians…waiting to have sex until marriage.
The emphasis on "purity" is problematic for several reasons, though.
Let's start with the most obvious. None of us are pure, period. It doesn't matter if you're talking sexually, or in any other way…we all fall short. We are all poor, miserable sinners. To think we can attain purity in a specific area of our lives is ridiculous, because we can't. Only Christ can, and it is only because of His suffering and death, and victory over death and the devil, that we can dare to present ourselves as anything but blemished to the Father.
We seem to understand this for most sins, but with sexual sins we seem to think we can be good enough on our own, and somehow achieve this status of "pure".
Speaking from a strictly sexual perspective, then, when we think about purity, we tend to think about being clean or whole or unblemished, as long as we haven't engaged in pre-marital or extra-marital sex. This is a dangerous way to talk to our children about sex, however, for both Christians who do save sex for marriage, and for those who don't.
When we focus on remaining pure, and when the goal is being clean and whole for our future spouse, we set up the idea that sex itself is bad, in marriage as well as outside of it. Parents of course don't mean to do this, but it can still be implied. If not having sex makes us pure or clean or whole before we're married, what are we once we do marry and enjoy the gifts of marriage that God gives us? In that case it can be a difficult adjustment to suddenly think of sex as the good gift from God that it is once we are married. Instead, if we've been programmed to believe that having sex makes us dirty or broken, suddenly having a wedding ring isn't going to erase years of teaching that makes sex itself seem dirty.
The early days of marriage are hard enough without bringing the baggage associated with the vocabulary preferred by an evangelical Christian movement along with it!
And what of those who don't wait until marriage? This happens more often than Christians want to admit, even to Christian couples. If the focus of our relationships up to that point has been purity, what does that make us once we've made the decision to have sex? Or even worse, after we've been sexually assaulted? It is far too easy to fall into the trap of thinking of oneself as unclean and ruined because of one event, and once that line of thinking begins, it can also be difficult to see the point in refraining from further sexual activity until marriage. After all, if you're already broken, what's the point in trying to be whole and clean again? This is a prime example of the Law dragging a person down, without the saving message of the Gospel to offer hope and comfort.
Tokens of purity are an especially dangerous and fairly popular part of the purity movement. Some parents like to give a ring or other symbol to their children, as a visible reminder of their commitment to purity. But what happens if they do have sex before marriage? Are they supposed to take it off, so that everybody can see that they're no longer "pure?" Keep wearing it, even though the thing it's supposed to stand for no longer exists? What about the shy youth who simply doesn't want to answer questions about what the ring or other item stands for? This is another example of weighing our children down with the Law, even if it's done with the best intentions.
Instead of using the word purity, and making that the focus of our discussion with our children, let's use the word chastity.
It may sound like an old-fashioned church word, but it's far more appropriate for what we want to teach our children. The word itself has much less baggage…to be chaste simply means to refrain from sexual intercourse. If we talk to our children about our hope, and God's plan, that they remain chaste until their wedding night, we are not implying anything about their state before or after. They are not clean or whole for not having sex, or dirty or broken if they do, and they don't have to worry about trying to transition from the idea of the purity movement that sex itself makes one unclean, to the actual fact that sex within marriage is a good thing.
And for those who don't remain chaste? There's the Gospel. While those in the purity-movement still have the Gospel, the emphasis on pledges and rings makes it nearly impossible to escape the scarlet "A" with one's peers or with ourselves — with years of teaching that sex outside marriage makes you dirty, blemished and broken. In contrast, if someone fails in their determination to live a chaste life, chastity is regained by simply ceasing to have sex. This isn't to say the one who returns to chastity frees themselves from their sin, but simply that it's a state of being one can achieve again — unlike purity. While there is forgiveness for both sinners, of course, the purity-focused may have a harder time acknowledging, accepting or trusting in that absolution.
As with all aspects of our Christians lives, we need both Law and Gospel. Unfortunately, too many people teach sex education with only the Law as their guide, which makes life harder for our youth, and cheapens the gift of sex that God has given to married couples.