On Becoming a Titus 2 Woman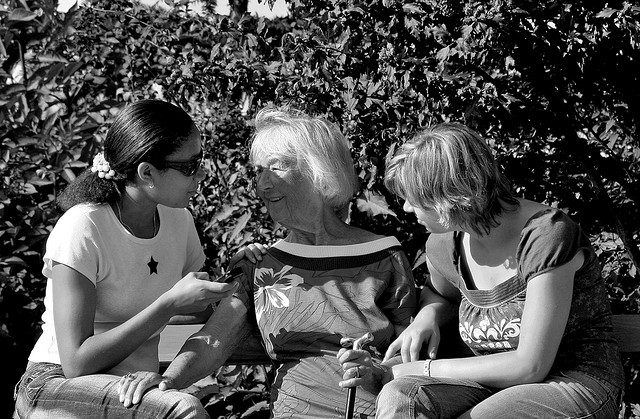 By Holly Scheer
Older women likewise are to be reverent in behavior, not slanderers or slaves to much wine. They are to teach what is good, and so train the young women to love their husbands and children, to be self-controlled, pure, working at home, kind, and submissive to their own husbands, that the word of God may not be reviled.

Titus 2:3-5
These words are serious. These words are weighted with the expectations of generations of past discussions, among women and men far wiser than I, talking about something we're often lacking in our communities and lives. But I'm here to encourage you, as best I can, and hopefully provide some small help.
First, we're talking about women helping women. Older and experienced women sharing wisdom with their younger sisters (and here I mean sisters in faith, not by birth). I know a lot of women are quick to correct other women — on clothing, behavior and even on matters of faith — yet really slow to grasp this instruction to teach. So, let's take this piece by piece.
Older women are to be reverent in behavior…
Reverent — showing or feeling deep and solemn respect. It's easy to assume this is merely talking about some level of piety or some set of behavioral rules, completely overlooking the respect it includes. Respect in our circles, as a family built around the Church and Her ways, is a quiet admiration based around Jesus. Those older women? That's wisdom right there.
…not slanderers or slaves to much wine.
This looks pretty simple and clear. Obviously this must exclude those other women — the ones who like to sit and indulge in too many drinks after supper (or before and during AND after…) Or those women who love to open up discussions on all the ways other people aren't measuring up. You know, with the comments about so and so, who is on the outs with her husband, or the other so and so who can't EVEN catch a husband. Or with remarks like, "That poor woman there can't manage her horde of children and that other woman can't seem to even have one child. Bless her heart." Or with the quick complaints about her husband rather than seeing the good in him.
We love to speak poorly of others. It's awful — really awful. It's sinful. I've done it and, if you're like me, you've done it — and we hate (I assume) when others do it about us. This isn't some easy habit to break, and I'm sure I owe some apologies of my own here and there.
But we have wise, older women, steeped in faith and not of the super boozy or gossipy variety. And they're here to do what?
They are to teach what is good, and so train the young women to love their husbands and children…
So these women are to instruct the young women to love their husbands. Their children. Makes sense. After all, your husband (if you're married) and your children (if you are a mother) are your nearest neighbors. When we talk in the church about serving our neighbor, it's easy to think of that fellow pew sitter or coworker or friend from around the block and forget the closest and dearest are those in our own homes. And for you women not yet married or not yet mothers, take heart — there are rich words of experience and comfort for you, as well.
Now, as if that all wasn't tough enough we get this:
…to be self-controlled, pure, working at home, kind, and submissive to their own husbands, that the word of God may not be reviled.
Wow. Maybe it's my personal failings and weaknesses here, but that list looks really difficult to scratch.
Sisters, I'm going to encourage you here. You're a sinner! You're awful. You gossip. You yell at your kids and sigh when your husband asks you to spend time together. You envy working women and women who stay home. You complain about housework and look for reasons to avoid really sinking into God's Word. You'd rather submit to public opinion than your husband, and self control sounds like something you ask your kids to have while utterly lacking it yourself. Kindness? Purity? What are we here, some 50s style TV mother? HA! That perfection is only really possible in front of a camera in a scripted sitcom of a life.
I'm an awesome encourager, right?
I'm not done yet, though. You're also a child of God. You're baptized. He, who called you, is faithful — He will do it. You're part of a rich history of women who have sat and sung the same hymns, prayed the same prayers and listened to the same liturgy. For all the days you fail to be taught how to be a better wife and mother — for all the days you fail to teach and encourage others to be better wives and mothers — there is forgiveness for you in church. At the Supper, in the absolution from your pastor and in your Baptism. Repentance and forgiveness are how we can move toward this plan. Because in all our mess, we have Jesus, crucified and risen for us.
Second to that, we have the gift of our neighbors, our sisters in Christ.
Older women — your wisdom and experience is a gift. When you share and help and build up and encourage, it's a beautiful part of this family of believers. Younger women — when you sit at the feet of the older ladies and breathe in the Word's truth instead of the world's, you are blessed, and your family is blessed. When we are sisters in truth, we have a tiny glimpse of what family can be. Forgiven sinners, together.