A Two Pronged Approach to Modesty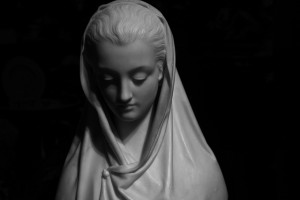 By Amanda Markel
I'm going to admit to something that may not be popular in Christian circles…I no longer use the word "modesty" when talking to my daughters.
There's nothing inherently wrong with the idea of modesty…it even appears several times in the New Testament. But modesty is another one of those words that our modern culture has twisted to mean something other than what the Bible expresses, and like many other things in American Evangelicalism, I want to stay as far away from it as possible.
First of all, there is a tendency when we emphasize modesty, for Christian women to act in a less than Christlike manner toward other women, Christian or not. When you are so concerned with the amount of clothing everyone is wearing it becomes easy to make fun of or be condescending to women who don't meet your criteria of modesty. There's a few problems with this, however, starting with the fact that mocking women for how they are dressed is just as sinful as dressing in a provocative way is.
Modesty is also very subjective. While the word does appear in the Bible, it is not accompanied by a definition. The Bible does not tell us we need to be covered from neck to ankles to be modest, nor does it say collarbones to knees, or any other list of body parts. This is one of those issues that can be cultural…what is considered "modest" in one place might not be in another, even in different parts of the same country. It is not our job to impose whatever definition of modesty we have in our head upon other people.
Another problem with emphasizing modesty to our daughters is that we put the burden of two people's sins on one girl. Usually, when Christians talk about modesty, they are talking not only the girl making sure she's covered enough (sin one), but also making sure she doesn't cause men to sin (sin two). There is not only no Gospel in talking this way, but a double helping of the Law! We leave our daughters worried that not only are they going to sin by how they are dressed if they don't have the right parts covered, but that they will also "make" the men who see them sin as well. Not only is this unfair to women, it's insulting to men in two ways…either because we're letting off the hook for their own thoughts, or because we're assuming they're no better than animals in how their brains work.
Finally, and perhaps most importantly, when you over-emphasize modesty, you offer a false sense of safety. The implication is that if you're modest enough, you don't have to be worried about being harassed by men, or even worse. Modesty doesn't protect you! No matter how much skin you cover, how loose your clothing is, or how many layers you wear, it's not your sense of modesty that will protect you from men bent on evil. It's too easy to be lulled into a false sense of security, a thought of "that could never happen to someone as modest as me!" when in fact, bad things happen even to those whom we would consider to be super modest women.
Instead of talking about modesty, then, I talk to my daughters about being comfortable and appropriate.
Comfortable actually has two parts. First of all, will they be comfortable with how what they're wearing fits? None of my girls like wearing short shorts or skirts, so when they're looking at new clothes, I remind them of this preference. If they're going to be self-consciously tugging an item of clothing down the entire time they're wearing it, it's probably not a good choice for them. They need to consider how they will feel when they're wearing an item of clothing.
I also ask them if it will be comfortable for what they're doing. If an item of clothing is so binding that they won't be able to move about comfortably for whatever activity they're involved in, it's also probably not a good choice. This concept, in particular, is very subjective. What is comfortable to wear for a sports activity may be very different from what you would be comfortable in when going out to dinner. And that's OK! Different places and activities have different comfort levels.
I also talk about clothes being appropriate. When you go to the beach or pool, you obviously wear less clothing than you would at the grocery store. This has as much to do with safety as anything else…wearing too much, too heavy clothing is a risk when combined with water, and would be inappropriate. Can this be taken too far? Of course! But it's not our place to decide what "too far" is for other people in terms of their dress. The same goes for other places, such as a ballet or other dance recital. Dancers tend to wear less clothing, or more form-fitting clothing, than we usually see in public. This is born out of necessity…in practices, the instructors need to be able to see the dancers' limbs well, to make sure that they're doing movements in a technically correct way, and in performances, the audience needs to see the same thing in order to appreciate the movements. Again, this can be taken too far, and that's why it's important for girls to know what makes them comfortable as well as what is appropriate.
Like so many things that have come with the rise in American evangelicalism, the modern idea of modesty is a very law-based proposition. If we stop focusing so much on how much clothing girls are wearing, and instead help them figure out what makes them feel comfortable and what is appropriate for the occasion, we can help remove the burden of another's sin from their shoulders, and show them God's grace in the process.