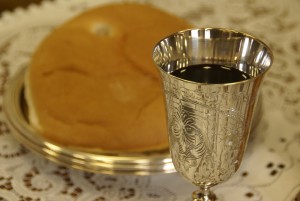 When I was growing up I thought Maundy Thursday was people pronouncing Monday Thursday slightly strangely and I couldn't really understand why they were combining the two days. I didn't know what it was about, really, and while I knew that it was some pre-Easter holiday (I'm cringing, too, here, sorry!) I didn't really think that anything terribly important was happening or commemorated on this day.
Oh, I was wrong. I was so wrong. Sometimes it's frankly embarrassing looking back at the sure certainty of childhood and the things we've (OK, I) misunderstood.
Maundy isn't a mispronunciation of the beginning of the week. Nor is it some unimportant place holder on the march toward Easter. We remember two big things on this day. The first is the command to love one another and Jesus washing the Disciples' feet to demonstrate this. The second is the institution of the Lord's Supper.
"A new commandment I give to you, that you love one another: just as I have loved you, you also are to love one another. By this all people will know that you are my disciples, if you have love for one another." John 13:34-35
When we boil down the Ten Commandments we are left with, in the simplest terms, to love God and to love one another.  This also mirrors the post Communion collect where we pray for faith in Christ and love for one another. Who makes us capable of love? Jesus– we love others because He first loved us.
Communion increases our love for our neighbor, it brings us forgiveness of sins, and it connects the Church Militant with the Church Triumphant. We have so many good gifts from our Lord and this is certainly one of them!
Maundy Thursday is not some footnote during Holy Week. Today is an important day. Sisters, today is a day to go to church. To hear the Gospel. To take Communion.
By Holly Scheer
Photo Credit to Ian Britton. Creative Commons License.