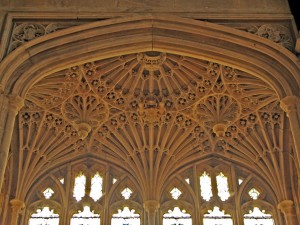 By Sandra Ostapowich
Happy Anniversary!
Who has a wedding during Holy Week?? On Good Friday?? That's just insane, right? This day is all about Jesus, it's sacrilegious to do anything but contemplate Christ's death for us that day.
Well, it's an arranged marriage for one thing. The groom's Father set it all up a while back. Way back even before there was a when (Eph. 1:4-10). See, the LORD wasn't surprised when Adam and Woman fell into sin. Jesus becoming Man and dying on the cross for our sins wasn't a Plan B to mop up the mess we'd made of everything. No, it was the plan all along.
Twisted? Some might say so, if they don't see the plan through. How would God want us to sin and suffer and die? How could He want to punish His Son, punish anyone for breaking His stupid rules — especially if the whole thing was rigged and planned out in the first place? That's horrible!
That's the thing…it was planned out in the first place. All of creation happened so that the Son might not just come to seek and save the lost (Lk. 19:10) but to get a Bride as well (Rev. 19:7).
So back to the wedding on Good Friday…We know that Jesus is the Bridegroom because, well, He says so (Luke 5:34-35), and John the Baptist identifies Him that way. This isn't an unusual characterization or just a label that's thrown around lightly. The nuptial analogy is used all throughout Scripture. God calls Israel His wife in the Old Testament. Weddings, real and in parables, are all over the Gospels. And the big feast on the Last Day is a wedding feast!
"Therefore a man shall leave his father and his mother and hold fast to his wife, and they shall become one flesh." Gen. 2:24
Jesus, God the Son, became Man. The Father sent Him on a mission and the Son left His Father and His heavenly home to become incarnate (John 8:42). Fast forward 30ish years, to a hill outside Jerusalem, where He now has been nailed to a cross. As the soldiers cast lots for His clothing, three women stood by — Mary his mother, his aunt, and Mary Magdalene. And the disciple whom He loved. "When Jesus saw his mother and the disciple whom he loved standing nearby, he said to his mother, 'Woman, behold, your son!' Then he said to the disciple, 'Behold, your mother!' And from that hour the disciple took her to his own home," John 19:26-27. Jesus, quite literally, left His mother…gave her to His beloved disciple.
Now to the holding fast to his wife part…
In Eden, in order to make the first Adam's ezer kenegdo (editor's note– this is Hebrew for "helper fit for him."), the Lord caused a deep sleep to fall upon the man. He took out part of his side and, from it, built this new creature for him. That same word is used in the Septuagint (the Greek translation of the Old Testament that was made a few centuries before Christ's birth and was quoted repeatedly in the New Testament) for the place on Jesus' body where the soldiers thrust the spear.
The New Adam's Bride shows up near the end of the scene on Golgotha. It's getting dark and the Sabbath is beginning, and Pilate doesn't want these three still hanging on their crosses and drawing out their deaths. It's always more of a spectacle when the birds get at them, and certainly bodies are easier to take down when they're fresh. So he orders the their legs to be broken, which would hasten the inevitable. But when the guards get to Jesus, He's already dead so they skip the leg-breaking and just stick a spear in His side. Out pours water and blood. In theological terms, here we have the Sacraments…here we have the Church. St. John Chrysostom wrote:
"As God then took a rib from Adam's side to fashion a woman, so Christ has given us blood and water from his side to fashion the Church. God took the rib when Adam was in a deep sleep, and in the same way Christ gave us the blood and the water after his own death."
So when we think of Good Friday, it's not only the gloom and somberness of Christ's death. Because by His death, we have been given life. Jesus, dead on the cross, with blood and water pouring from His side…that's the Church's wedding picture. That's our wedding picture. Our garments have been washed white in the blood of the Lamb. Blood that was shed on the cross and flowed from His side and water poured over our heads in baptism.
 Photo Credit to Lawrence OP. Creative Commons license.