What's in a Family's Size?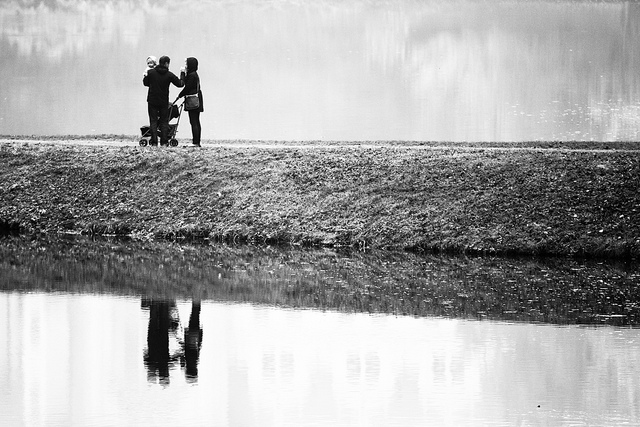 When Dan and I were engaged, I dreamed of us having four children. I thought it would be the perfect family-all even. Of course, I dreamed that we'd have two boys and two girls. I like things to be even.
When I got pregnant with Ethan, things came screaming to reality. More like puking to reality. I get sick when I'm pregnant. Very, very sick. I was sickest with Ethan, where I had to have a PICC line and home IV therapy. I lost around 25 pounds with each pregnancy. A good diet, if you forget about the vomiting part.
Then when it came to labor and delivery, it was no picnic for me either. I didn't dilate–with Zach I had contractions two minutes apart and was barely two centimeters. I had three c-sections. Pregnancy and delivery were such a problem for me that when we found out Emma was going to be a girl, we (more like I, but I like to include Dan in this…) decided we should have a more permanent method of birth control. It was a good thing we did, too, because as my doctor was sewing me up after having Emma she recommended that I not have any more children, due to extensive scar tissue.
That was fine for me. I'd much rather have the baby than the pregnancy. The thing is, when Emma was born, our family felt so complete. I had thought I was done after having Zach, but there still seemed to be a hole in the family. Emma filled that hole. I believe that it was God's plan for us to have three children.
It's beautiful how God has designed families. Some families are perfect with only one child. In some instances, that's all the parents are able to have. Some are perfect with two, three–some are perfect with eight or more children! That's the beauty in how God created the family. He created each one unique, with its own special personalities. I don't believe that there's any right size to a family. I don't think it's wrong to have an only child, and I don't think it's wrong to have a big family with tons of kids.
God gives us discernment — and free will, for that matter — to choose how big our family is. Am I saying it's right to have an abortion if you have two children, and have a surprise "oops" pregnancy? NO!!! All life is God-given and is to be respected. Those "oops" happen, and I think that's just God's way of showing that He's the ultimate planner.
"For I know the plans I have for you," declares the Lord, "plans to prosper you and not to harm you, plans to give you a hope and a future."

Jeremiah 29:11
I love that verse. We are here on earth, carrying out God's plans. He's known since he knit me in my mother's womb where I would be in life. He knew I'd be a mother of three. It was all in His plan. God doesn't love us less because we have three children instead of eight. He loves us the same. Size doesn't matter.
By Esther Burns
Photo Credit: "Happy Family" by Brad Hammonds licensed under CC BY 2.0