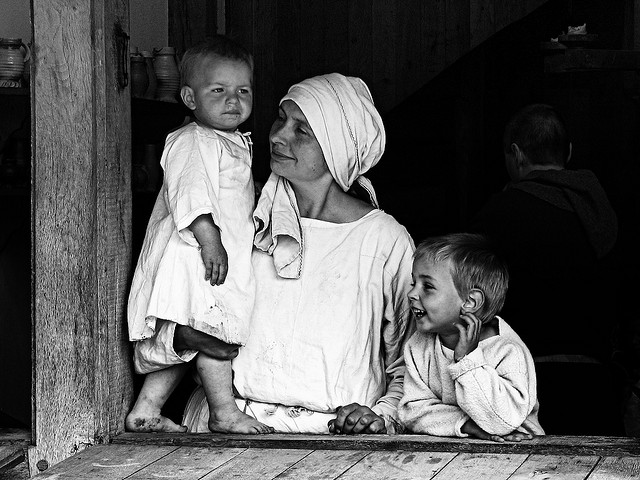 There are few vocations as riddled with fruitless worry as that of motherhood. For many of us this begins as soon we find out we're pregnant, with questions of what to eat, how our lives will change, what will remain the same, and all of the concerns over whether or not the baby will be healthy. Indeed, anxiety dreams during pregnancy are almost legendary—I know I once had a vivid dream that I was actually pregnant with a three-legged pony.
It's not as if these concerns stop once the baby is born. How many of us have sat up in the middle of the night with a screaming baby and thought you couldn't do it? It's not so much the exhaustion, but the realization that if you can't figure out how to stop your baby from crying, how are you going to meet more complex needs later on? Or at least that has been the case for me. The exhaustion didn't help these thoughts.
As our children grow we try to do what's best for them and sometimes we're aided by our sisters in Christ, who understand the trials, have been there themselves, and want to do whatever they can to alleviate the burden. But then there are those other times. Those people who are experts in how you should raise your child. Who can speak unequivocally to the things every good mother should do—every good mother should homeschool, every good mother should stay home until her children go to college, every good mother should co-sleep, or shouldn't, and everyone knows every good mother keeps a spotless house, cooks gourmet meals, and never once wonders if she is making the right choices. Because good mothers always know what to do.
The truth is we don't always know what to do. We are weak in our vocations, fearful for what the evil foe may have in store for our families, and always a little worried we're going to fail, and let our little ones down.
Fear not, dear mother. It is easy to believe our children are ours, and that we are given sole responsibility to protect them, and yes, we have been granted a sacred duty, but we are never alone. Even the single mom is not alone. Our gracious Lord has promised never to leave us, or forsake us. Your children are not just yours, they are His, washed clean in the waters of baptism. As baptized children, we should repent of believing that our Father does not desire good things for us, of the anxiety that so often drives us, and look to Him, Who promised His strength in our weakness.
You have been given the vocation to raise children in the nurture and the admonition of the Lord, and He has also provided you means of caring for your children—this may mean He has provided you with employment, or perhaps He has provided you with a husband who is able to support your family. Keep bringing your children to church, even if you're tired, even if they don't seem to get anything out of it.
The forgiveness granted there is forgiveness for all of you, forgiveness that will see you through those dark days of doubt and fear.Give thanks for these gifts. As you remind your children of their baptisms, also remind yourself that they are God's own children. Ask their forgiveness when you have failed them, because you will, and remember that you are the only one given the vocation of raising your children. Walk in the freedom Christ has granted you, and go in His peace, because Christ is only for sinners such as yourself.
By Ellie Corrow
Photo: Mother by Hans Splinter. Creative Commons license.