Celebrating the Church Year- April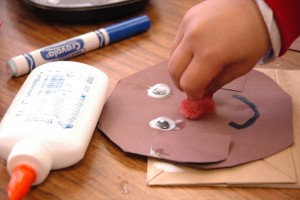 By Marie McNary
 Life is busy.
Sometimes in all the hustle and bustle the urgent takes priority, and the important is put off until another day. Keeping Christ at the center of our households is both urgent and important. It should be at the top of our "to-do" lists. Celebrating the church year within our homes is a fun way to bring Lutheran history to life that we are exposed to only in Church.
We are always looking for ways to make Christ the central focus of our life and our days. When it comes to celebrating the church year sometimes it can be tough to know where to begin, but the Lutheran Church Missouri Synod Church calendar can help. Here is a compilation of their activities for April that you can do at home.
April 2: Maundy Thursday Read from the Bible: Mark 14:12-26 The Last Supper Coloring Page.
April 3: Good Friday Read from the Bible: Matthew 27:45-61, Mark 15:33-47, Luke 23: 26-55, John 19:16-42 Read: Good Friday – Arch Book.  Coloring Page.
April 5: Easter Sunday On Easter we celebrate Jesus. We celebrate His life. We celebrate His death on the cross. We celebrate that because of this sacrifice we are given eternal life with Him in Heaven. Jesus, as God's Son, is the only one who could ever give us this amazingly special gift and for that we thank Him and sing His praises every day. Read from the Bible: Matthew 28: 1-10, Mark 16:1-8, Luke 24:1-12, John 20:1-23; The Very First Easter by Paul Maier; He is Risen Coloring Page
April 6: Lucas Cranach, Michelangelo, and Alberecht Durer, Artists (Commemorations) Today commemorates three artists and their contributions to Lutheran history. Celebrate by learning a little more about each man. Maybe get in on the fun and consider an art project of your own or with your children. Learn a little more about Lucas Cranach; learn a little more about Michelangelo; learn a little more about Albrecht Durer.
April 12: Second Sunday of Easter Celebrate that Christ has risen all month long (all year long for that matter). Have some fun with all of the Easter activities out there. Easter Resurrection Pack ideal for kids ages 2-8.
April 19: Third Sunday of Easter Resurrection Garden.
April 20: Johannes Bugenhagen, Pastor (Commemorations) Learn a little more about Johannes Bugenhagen.
April 21: Anselm of Canterbury, Theologian (Commemorations) Learn a little more about Anselm of Canterbury.
April 24: Johann Walter, Kantor (Commemorations) Learn a little more about Johann Walter. In honor of this Lutheran poet and composer, consider jamming out to some Lutheran Public Radio today.
April 25: St. Mark, Evangelist (Feast & Festivals) What better way to teach your family about Mark than to open your Bibles and read what he has to tell us in the Gospel of Mark? For more depth of study, Concordia Publishing House has several resources, including the LifeLight Study of Mark.
April 26: Fourth Sunday of Easter The "Jelly Bean" Prayer for Kids."
I hope this resource will help you create you own ideas and help you bring Christ and Church history into your home in this special way. Please tell us in the comments how you are celebrating the church year in your home!