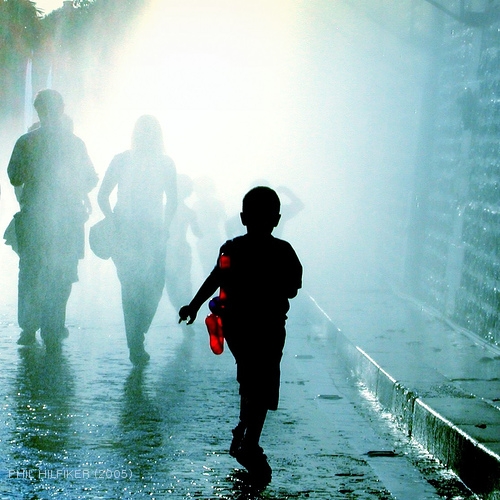 by Amy Stafford
People often say how blessed our daughter is to have been adopted.  And of course, my response is always that we are the blessed ones to have her in our lives.  People also often say she was meant for our family.  She certainly appears to be.  Her personality is so much like her older sister's, it's scary.  She fills what was previously a gaping hole in our family.  She is the delight of our lives and fits in perfectly.  But it must be said, she was also meant for her birth family. She was born to another mother, and another father.  To other grandparents, aunts, uncles and cousins.  Who knows, possibly siblings.  And that isn't something I shy away from.
The fact that they are thousands of miles away does not erase them from our lives or diminish their importance.
Being born female, and with spina bifida in India gave her an incredible disadvantage.  It is unlikely that her birth family could have financially cared for her medical needs.  It is also quite probable that upon seeing her deformity at her birth, the societal and religious beliefs of her homeland gave her family few options.  While I'd like to think that myself in tandem with some grand charity or organization could change the mindset of a nation about disability, improve their economic conditions and create value for the lives of disadvantaged children, it just isn't possible.  The truth is that India was not a place that my daughter could have remained and had any sort of life.  Not deemed adoptable by her fellow countrymen, international adoption was her saving grace.
My daughter has lost something I wish she hadn't had to. I wish she could know her biological family. Even if they aren't as wonderful as I imagine they could be, they gave her an opportunity to have a future and that says something.  But given the circumstances of her relinquishment, I know this is highly improbable. She will likely never know them, and that grieves me.  I grieve for her, and I grieve for her birth family.  They are forever a part of our family– an extended family we will never know. I pray they can find peace in knowing their act of love in giving her a chance at life with another family was the right choice.
Adoption isn't God's first plan, just as sin and death weren't.  Parents should be able to have children, and children should be able to grow up under the loving watch of their parents.  That is the way God intended it to be.  But we don't live in the Garden of Eden anymore.  People get ill.  People die.  People are poor.  People are abusive to one another.  Societies turn on their own citizens, and the result is turmoil, loss and pain.  In this mess, children are sometimes left alone in a situation they can't free themselves from.  Likewise, our human bodies may fail us, leaving us incapable of bringing a child into the world.   Circumstances beyond our control keep us from filling our homes with the joyful voices we imagined would be there.  We are left empty.
But thanks be to God!  He can take two broken halves, and make something whole again!  He gives us adoptive and step families that replace the loss and sadness of a broken family with fullness and joy.  That is where He becomes the perfect matchmaker, bringing parents and children together to become a family, where each one loves and needs and provides for each other. This is why our adopted children and family members are the perfect match for our families.  Not because God always intended them for us from their conception, but because when the evil of this world caused them to lose their first family, He found them another that they also belonged in.  Only He can make dancing out of mourning, and joy out of loss as Psalm 30 describes.
Through our Father's infinite love and mercy, we are all the blessed ones.