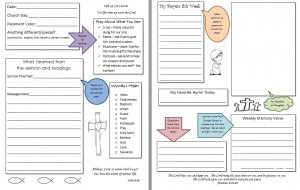 By Emma Squire
I was looking for a way to engage my 8 year old a bit more in the worship service, but also to have a personal spot to put her prayers, memory work, and questions during the week. She can read the liturgy with us, but has a tendency to tune out the sermon, readings, and prayers after the first few minutes! After searching online for resources to draw her into these parts of the service more, I decided to create something myself.  My intention is to put these pages into a binder that she can bring to church each Sunday and review during the week during her quiet time and family devotions/prayers. Hopefully it draws the whole family into rich discussions that last during the week, instead of forgetting what we learned the minute we step out of the sanctuary :).
Emma designed this resource and was gracious enough to share it with us. Thanks, Emma!
Edited to add the PDF!!
Please follow and like us: