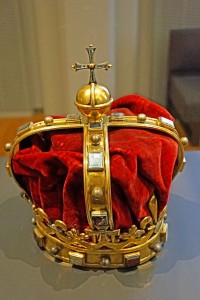 By Amanda Markel
Today, September 9th, 2015, Queen Elizabeth II surpasses Queen Victoria's record as the longest-reigning monarch in British history. Why should we, as Americans who have no queen, or as Lutherans, who do not answer to the head of the Church of England, pay attention to this, or care about it at all? Does it even matter to us?
I think it matters a great deal. Why? Because the Queen, more than any other modern person I can think of, not only understands the concept of Christian vocation, but lives it out fully, every day of her life.
To see where this understanding of vocation comes from, and her determination to live out the vocations God has given her, you have to look back a bit at her family's history.
Queen Victoria, the previous record holder of longest reigning British monarch, should never have made it to the throne. Her father was the fourth son of King George III, and he himself died when she was young. A woman taking the throne at that point in history was hardly ideal, but the line of succession boiled down to her, and take the throne she did. She continued to serve the British people for over sixty years, even through her husband's death, and other events that others would have considered too terrible to work through.
Kings George V and VI were also never supposed to rule, having both been born second sons. But the former came to the throne because his older brother died, and the latter wore the crown following the abdication of his older brother. Despite the fact that they weren't supposed to be kings, they too wore the crown, and led their country, even their empire, through very difficult times.
Queen Elizabeth II herself shouldn't have become monarch. As the oldest daughter of a second son, she was never even allowed the title of "heir(ess) apparent," because at any time, even when her parents were past traditional child-bearing age, had a brother been born, he would have taken her spot in the line of succession, as the law dictated at that time. So, Elizabeth was known as "heir(ess) presumptive" from the time of her father's (somewhat unexpected) coronation, and while it was understood at that point that she would rule someday, there was always the possibility that could change, no matter how slight the possibility might have been.
There is evidence that at least some of these monarchs weren't thrilled to have this responsibility thrown upon them. King George VI, made famous in the movie The King's Speech, suffered from a speech impediment which made becoming king an almost insurmountable task. And Queen Elizabeth II is thought to be more comfortable in the country, riding horses and walking her dogs, than at court.
All of these monarchs have one thing in common, though. They all understood that their role as queen (or king), was a vocation given by God Himself. They did not serve simply because they had to, or because they felt pressured to, but because they believed that God had called them to their position as head of state. Queen Elizabeth II made this clear in the famous speech she gave in South Africa on her 21st birthday, when she was still Princess Elizabeth: "I declare before you all that my whole life whether it be long or short shall be devoted to your service and the service of our great imperial family to which we all belong."
Queen Elizabeth's husband, Prince Philip, the Duke of Edinburgh, also takes his vocation seriously. He has committed his entire live to serving and helping her. Despite his promising, and well-loved, career, in the British Navy, when the Queen ascended to the throne, he put it aside, to support her in her Christian vocation. Often, we think of women supporting their husbands in his vocation, but it can happen in the reverse, as well, as is the case of the Duke. He has walked a step behind her for over 60 years, attending events that were not his first choice, giving speeches, and representing the Commonwealth, all because it is his vocation as husband of the Queen, and as a Prince of the United Kingdom.
Yes, as Americans, we have no queen (or king). But we should care when we see a believer living out her vocation to the fullest extent possible, especially one who has done so in such a public way, for such an extended time, which is a true rarity. We can learn from the example set from the monarch across the pond, admire her dedication to the God-given vocation she has been carrying out for over six decades, and desire the same steadfastness in our own lives. God has called us each to many and different tasks, but even though one may be a queen, another a teacher, still another a trash collector, the joy with which these vocations are carried can and should be the same, as we each do our jobs with willing hearts to the glory of God and the benefit of our neighbors.