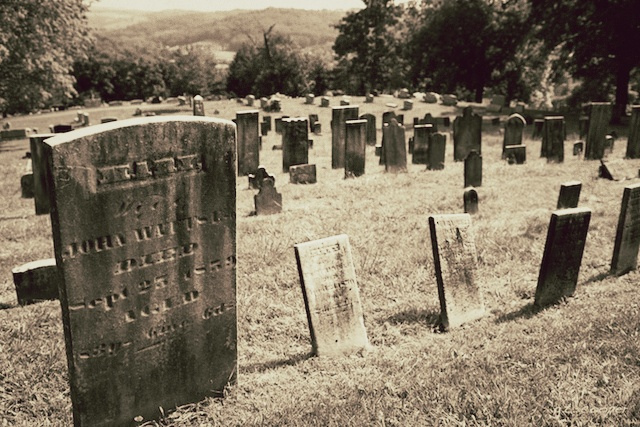 By Wanita Wood
An elderly friend from church passed away suddenly this week. Our pastor was there with him at the end. He prayed for him and read scripture to him before he died. Pastor observed later that people such as this man pass without fanfare in the world. The world fetes actors and comedians, but not fine, elderly men who have lived a peaceful life, and brought joy and love to those around them. My friend and I had many chats at church between services. He told me that he wished the Lord would take him. I told him what I tell elderly saints when they express such sentiments, "Your time now on earth is important; you have the responsibility of praying for the rest of us. This is a responsibility not to be taken lightly. You are here to intercede for your family, friends and country. The steadfast, fervent prayers of a righteous man avail much". He was a man of prayer.
We younger ones are running around so frenetically, we seldom remember we live on a knife-edge. Anything can happen to any of us at any time. Life is short. We have dampened the brutality of life by eliminating the weakest among us. We've aborted those with deformities. We've blotted out pain and suffering through medication and drugs. We've hidden the elderly and dying, ignoring their woes until we have to bury them. We fit that in between our golf game and our scheduled facial. We go about our happy illusions, wrapping ourselves in cotton wool and forgetting the reality that each of us could go at a moment's notice.
We forget what lies ahead. We concern ourselves with only the here and now. We delude ourselves about the afterlife. As radio host, Chris Rosebrough, puts it in a skit, heaven is a place for everyone except "Hitler, Genghis Khan, and my good for nothing ex-boyfriend." If we think about heaven at all, we point to theologically barren books written by four year olds, which channel pipe dreams and imaginary friends. Heaven becomes a place for departed pets, where you get to play all day. All you have to do to get there is… die.
In our culture, you never hear news reports of someone who has passed away who is described as anything except the greatest human being that ever lived. It's as though the people describing them think that lying about the person will help to get them a free pass into the bliss of eternity. We aren't much far removed from the pagan ancient Egyptians with their mummies heavy laden with material goodies, as though those will be of any help.
We, as Christians, are foolish to buy into this cultural deception. It does us, and the society we live in, a great disservice.
Please, when I go, do not describe me in this way. Tell them of my true natures: a poor wretched sinner unable to keep a single one of God's holy laws; a redeemed saint saved only by the mercy and grace of the almighty God, through the death and resurrection of Jesus Christ, her Lord. On my tombstone, put my life verse:
Jesus our Lord was delivered for our trespasses, and raised for our justification.
This would also be the most appropriate time for you to add the oft-misused and most abused verse of the Bible:
For I know the plans I have for you, declares the LORD, plans for welfare and not for evil, to give you a future and a hope.
You see, death in Christ is the promise we have to look forward to. We don't walk with Christ because we think He will give us health, wealth and trinkets whilst here on earth. We walk with Christ in the knowledge that, here and now, we have tribulation, pain, angst, worries and cares. This is how Paul described it,
But we have this treasure in jars of clay, to show that the surpassing power belongs to God and not to us. We are afflicted in every way, but not crushed; perplexed, but not driven to despair; persecuted, but not forsaken; struck down, but not destroyed; always carrying in the body the death of Jesus, so that the life of Jesus may also be manifested in our bodies. For we who live are always being given over to death for Jesus' sake, so that the life of Jesus also may be manifested in our mortal flesh. So death is at work in us, but life in you.
When we grieve for a fellow Christian, we grieve, in part, for ourselves: the ones who are left behind in this sin-torn world. We grieve because our flesh remains corrupt, our minds carnal, the world harsh and inhospitable. We know with certainty that our beloved Christian friend has passed into glory, and is no longer burdened by his sinful, failing flesh. He is experiencing the fullness of the eternal life that began when he was buried through baptism into the death of Christ (See Romans 6:1-10). We long anxiously, and sometimes impatiently for the same.
For we know that the whole creation has been groaning together in the pains of childbirth until now. And not only the creation, but we ourselves, who have the firstfruits of the Spirit, groan inwardly as we wait eagerly for adoption as sons, the redemption of our bodies. For in this hope we were saved. Now hope that is seen is not hope. For who hopes for what he sees?
We labor under the weight of God's holy law upon us. We are burdened by commandments we cannot keep, despite our best efforts. The saints who have gone ahead are now free from all this. They are in Heaven, in the presence of our Lord and Savior. Yet, remember, they too are holding to a hope: they are waiting to be re-united with their bodies. Joseph, in Hope of the Resurrection, instructed that his bones be carried back to Israel when the Israelites left Egypt. Job told us that even after his skin has been destroyed, yet in his flesh would he see his Redeemer (Job 19:25-27). Ezekiel prophesied this too, when God lead him to the valley of dry bones (Eze 37:4). Paul told us that the dead in Christ would rise from their graves (see 1 Thes 4:13-18). We all await with eager anticipation the coming of the New Heaven and the New Earth.
For God has not destined us for wrath, but to obtain salvation through our Lord Jesus Christ, who died for us so that whether we are awake or asleep we might live with him.
Our Lord Jesus was the first fruits of this New Heaven and New Earth. When He was resurrected, His body was raised incorruptible. This is what He prophesied about it,
"The hour has come for the Son of Man to be glorified. Truly, truly, I say to you, unless a grain of wheat falls into the earth and dies, it remains alone; but if it dies, it bears much fruit. Whoever loves his life loses it, and whoever hates his life in this world will keep it for eternal life."
We are the fruit He bears. We are the ones He suffered and died for. When one of us dies, he goes the way of all the saints who have gone before him. He has rested from his labors, he has entered into the joy of his Master.
We have this Hope.
Photo credit: "Weathered Headstones" by cooper.gary Licensed under Creative Commons